Alexis Navarre-Sitchler, Craig Brice named Fryrear Chairs for Innovation and Excellence
Endowed by Mines alumnus Ben Fryrear '62, the chairs spend 3 years driving strategic initiatives that further Mines' mission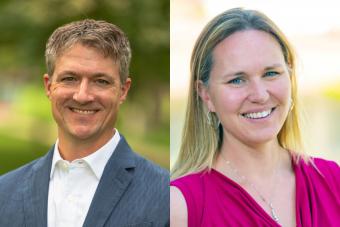 Alexis Navarre-Sitchler, associate professor of geology and geological engineering, and Craig Brice, professor of practice of mechanical engineering, have been awarded the Ben L. Fryrear Endowed Chair for Innovation and Excellence to drive institutional change at Colorado School of Mines.
Brice and Navarre-Sitchler are the fifth and sixth Mines faculty members to hold the position since it was endowed in 2017 by Mines alumnus Ben Fryrear '62. They succeed the inaugural Fryrear Chairs – Eric Toberer, associate professor of physics, and Kamini Singha, professor of geology and geological engineering – who complete their three-year terms this year.
Each Fryrear Chair receives $25,000 in discretionary funds a year for three years in exchange for driving a strategic initiative or program during that time that furthers the vision and mission of Mines. The other sitting Fryrear Chairs are Geoff Brennecka, associate professor of metallurgical and materials engineering, and Linda Battalora, teaching professor of petroleum engineering 
"The Fryrear Chair for Innovation and Excellence is an important engine for change on the Mines campus, and we are so excited to have Craig and Alexis serve in this leadership role as Mines continues toward its 150th anniversary in 2024," Provost Rick Holz said. "Both Alexis and Craig are outstanding members of the Mines faculty and part of the reason why Mines is among the top four engineering schools in the country. They also understand that we cannot rest on our laurels and are committed to doing their part to enhance Mines' signature student experience, which is at the heart of our MINES@150 goals."
A Mines alumna, Navarre-Sitchler holds a PhD in geochemistry from Penn State University, an M.S. in geochemistry from Mines, and a bachelor's degree in geology from Mesa State College.
Navarre-Sitchler joined Mines as a postdoctoral fellow in the Civil & Environmental Engineering Department in 2009 before taking a tenure-track faculty position in the Department of Geology and Geological Engineering in 2012. She won a National Science Foundation CAREER Award – the NSF's highest honor in support of junior academic faculty – in 2016 and earned tenure in 2018, the same year she was recognized with the Mines Excellence in Research Award.
Navarre-Sitchler currently serves as a member of the Mines Faculty Senate and Faculty Senate Executive Committee – an experience that helped inspire her Fryrear Chair proposal to create a mentoring program to connect mid-career faculty with meaningful opportunities and campus roles that align with their values and help fulfill their career aspirations.
"Mines@150 defines a goal of creating a uniquely Mines experience for all members of our community," Navarre-Sitchler said. "As a member of Faculty Senate, I realized that service roles on campus could be a powerful way to connect faculty to roles that are important to them and help foster a stronger sense of community and encourage the creativity and passion of faculty around important Mines initiatives. This is a way to mentor faculty and create a faculty experience that is uniquely Mines."
Brice holds a PhD in mechanical engineering from the University of Canterbury (New Zealand), an MS in materials science and engineering from The Ohio State University and a bachelor's degree in metallurgical engineering from Missouri University of Science & Technology.
He joined Mines in 2018 to lead the new Advanced Manufacturing Program, following a nearly 20-year career in research and development in industry and government, with a focus on the materials and processing side of additive manufacturing. He previously held roles at Lockheed Martin Space's Advanced Technology Center, NASA Langley Research Center's Advanced Materials and Processing Branch and Lockheed Martin Aeronautics' Advanced Development Programs.
With the Fryrear Chair, Brice hopes to find "tangible and tactile" ways to integrate engineering soft skills within the Mines curriculum, starting with the students in his Advanced Manufacturing Program.
"In line with our Mines@150 goals to create a signature student experience at Mines, I want to challenge our students to put their soft skills into practice through outside-the-classroom innovation competitions that require planning, executing, and selling their ideas," Brice said. "Looking back, I realize that my formal education did not adequately prepare me for key aspects of my daily job that I was expected to know as an entry-level engineer. I lacked critical engineering soft skills such as selling my ideas to decision makers, formulating realistic and economically sound business plans, and organizing and executing complex projects. Like my peers, I learned these skills on the job."
"My interactions with students since I have been at Mines has convinced me that these soft skills are still largely left to on-the-job training once students leave school," he said. "I look forward for the opportunity to help better prepare our graduates for success early in their careers and give them a head start amongst their peers."