Linda Battalora named Fryrear Chair for Innovation and Excellence
Mines alumnus Ben Fryrear '62 endowed the chairship in 2017 to recognize and support highly accomplished faculty members driving institutional change.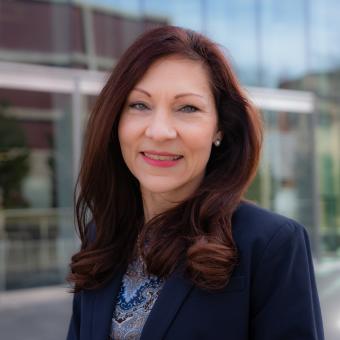 Linda Battalora, teaching professor of petroleum engineering, has been awarded a Ben L. Fryrear Endowed Chair for Innovation and Excellence to lead efforts to increase alumni engagement on campus.
Battalora is the fourth Mines faculty member to receive a Fryrear Chair since the position was endowed by Mines alumnus Ben Fryrear '62 in 2017 to recognize and support highly accomplished faculty members driving institutional change.
The inaugural Fryrear Chairs — Kamini Singha, professor of geology and geological engineering, and Eric Toberer, associate professor of physics — were appointed in 2017, with Geoff Brennecka, associate professor of metallurgical and materials engineering, receiving the honor in 2018. Each of the four Fryrear Chairs receives $25,000 in discretionary funds a year for three years in exchange for driving a strategic initiative or program during that time that furthers the vision and mission of Mines.
"Linda is a highly accomplished faculty member at Mines, known for her exceptional teaching and leadership. Her efforts to lead Mines to become an exemplar institution for alumni involvement is both innovative and timely, and as a Mines alumna herself, she will bring a truly invaluable perspective to this important work," Provost Rick Holz said. "This beautifully aligns with Mines@150 and will join together nicely the ongoing efforts of the Foundation to provide Mines students a transformative educational experience."
A Mines alumna three times over, Battalora holds bachelor's and master's degrees in petroleum engineering and a PhD in environmental science and engineering from Mines, as well as a law degree from Loyola University New Orleans College of Law.
Prior to joining the faculty at Mines in 2006, Battalora worked in the oil and gas industry in a variety of roles, including operations engineer, production engineer, attorney and international negotiator for oil and gas project development. She is also a registered patent attorney.
At Mines, Battalora currently serves as the faculty representative to the Mines Board of Trustees, a Payne Institute for Public Policy Faculty Fellow and a Shultz Humanitarian Engineering Fellow. She is a Distinguished Member of the Society of Petroleum Engineers and has been recognized for her work as an educator and for contributions to petroleum engineering in health, safety, security, environment, social responsibility and sustainability.
Making Mines "the exemplar for alumni affinity, visibility and involvement" is one of the seven primary goals of the Mines@150 strategic plan.
"Although various entities on campus are discussing how to best make Mines the exemplar for alumni affinity, visibility and involvement, there is no definitive construct for alumni engagement on campus right now," Battalora said.
Among the first projects Battalora hopes to tackle is creating guidelines for and developing alumni affinity groups that align with campus needs, programs, themes, projects and research, as well as surveying the undergraduate and graduate student populations to learn their expectations for alumni participation during their student experiences at Mines.
"From these first steps, pathways will emerge for alumni to share their experiences and successes in ways that truly resonate with students and also provide networking and mentoring opportunities," Battalora said. "Some of these pathways may include alumni guest lectures in the classroom, a campus seminar series, online webinars and thought leadership events.
"Meaningful alumni engagement will help provide a 'signature experience' for both undergraduate and graduate students at Mines and also provide for our alumni volunteers, an equally rewarding way to connect and give back to their alma mater."