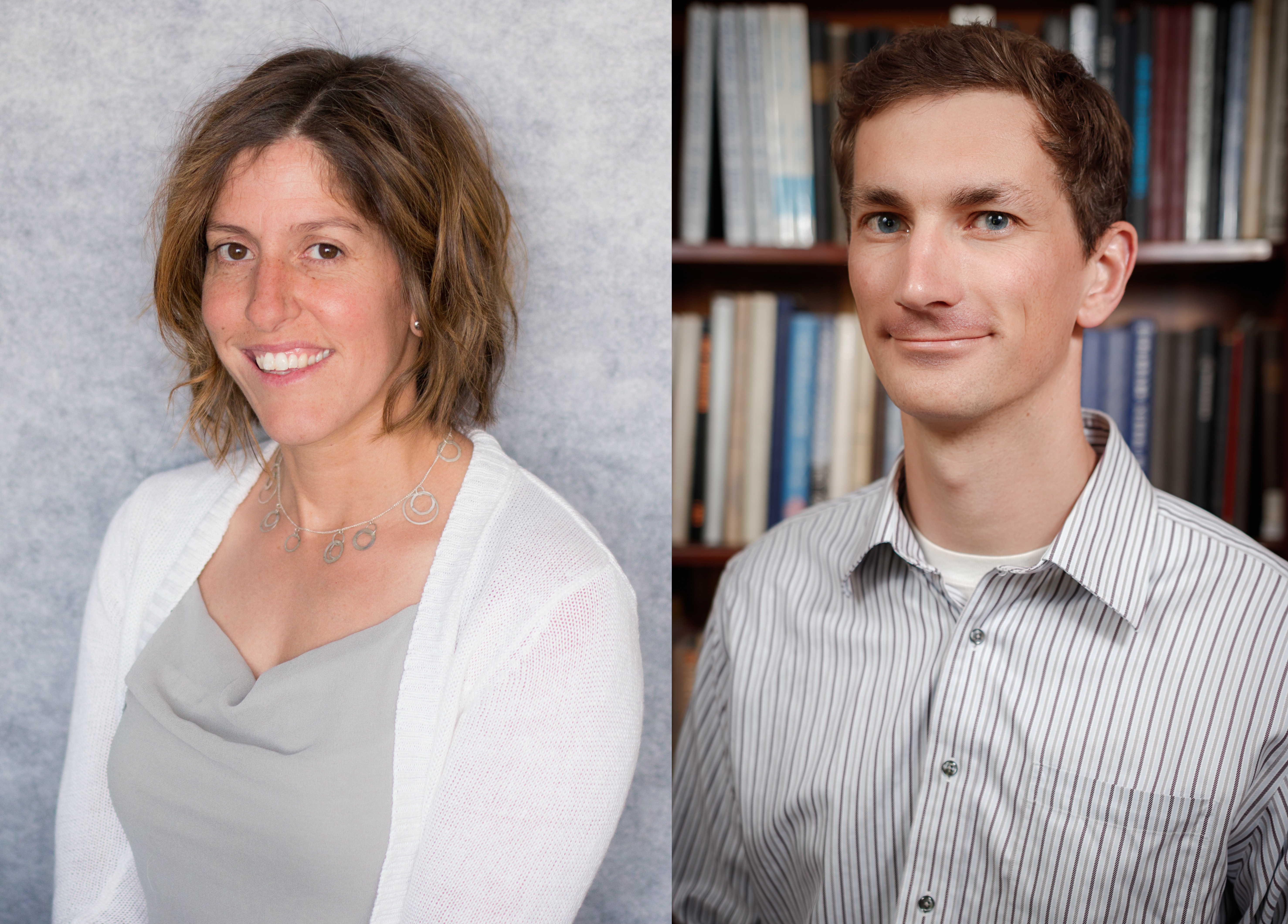 A new faculty chairship endowed by Colorado School of Mines alumnus Ben Fryrear to recognize and support highly accomplished faculty members driving institutional change at Mines has its first two awardees.
Kamini Singha, professor of geology and geological engineering, and Eric Toberer, associate professor of physics, have been named the inaugural Ben L. Fryrear Endowed Chairs for Innovation and Excellence, effective this semester. 
Two additional Fryrear Chairs will be appointed in 2018 and 2019, bringing the total number to four. Each Fryrear Chair will receive $25,000 in discretionary funds each year for three years, in exchange for driving a strategic initiative or program during that time that furthers the vision and mission of Mines.
"Both Kamini and Eric are exemplary faculty members who have excelled at delivering high-quality classroom instruction and student mentoring, and in developing world-class research portfolios," Interim Provost Tom Boyd said. "In addition, as Fryrear Chairs, each has proposed an initiative that will have broad institutional impact, helping us move toward meeting President Johnson's Mines@150 goals: Kamini through her efforts to develop and implement professional development opportunities for faculty, and Eric in his efforts to develop and implement additional pathways for undergraduate students to participate in cutting-edge research."
Fryrear, who graduated from Mines in 1962 with a professional degree in metallurgical engineering, was awarded Mines' Distinguished Achievement Medal in 1989 and CSMAA Honorary Membership in 2006. In 2016, Ben was appointed to the CSMF Board of Governors. During his professional career, he held positions at Alcoa Research Labs, Firestone Tire and Rubber Company, McCall Publishing and Conti Engravers before taking on the leadership of a start-up company, Aerospace Optics, Inc., where he served as president and chairman until his retirement in 2000.
Fryrear previously funded the Fryrear Associate Professorship awards — two three-year awards given to deserving faculty in the College of Engineering and Computational Science. The term of those awards ends Dec. 31.
 
"I've supported Mines in many ways, and after 30 years, I've seen that one of the best ways to make a lasting impact for a university is by supporting faculty. Students come and go, which is why it's important to reward and retain faculty leaders," Fryrear said. "This award supports President Johnson's vision, and I'm so excited to be able to help make it happen."
Singha, who joined Mines in 2012, became a full professor in 2016 and also serves as associate Geology and Geological Engineering Department head and associate director of the Hydrologic Science and Engineering Program. She earned her PhD in hydrogeology in 2005 from Stanford University and holds a bachelor's degree in geophysics from the University of Connecticut. 
She plans to focus her term as a Fryrear Chair on creating a new faculty development program. Singha has taught in workshops associated with the American Geophysical Union that focused on initiating one's academic career and in 2016, was accepted into Harvard's Management Development Program, which helps to train aspiring leaders in academia. 
"My goal for this new program is for the faculty that participate to walk away with the tools they need to succeed in rank, an understanding about how a university works from finances to creating institutional change, and an idea of opportunities to dig in to help build the university community—as well as building a cohort of colleagues across campus," Singha said. "Mines is unusual: if one wants to see change, it is possible to make it happen, given the size and relative nimbleness of the university compared to most of its peers. I would like more faculty at Mines to recognize the opportunities they have here to contribute to something bigger than each of us as individuals and hope to do that through these workshops, while growing our next generation of stars."
Toberer joined Mines in 2011 and received a National Science Foundation CAREER Award in 2016. He earned his PhD in materials in 2006 from the University of California, Santa Barbara, and holds a bachelor's degree in chemistry from Harvey Mudd College. 
Toberer said his colleagues and students have been critical for creating a vibrant community where his teaching and research could flourish.
  
"Over the next three years, I intend to use the resources provided by the Fryrear Chair to catalyze a distinctive program for undergraduate research on campus," Toberer said. "Undergraduate research is presently distributed and ad hoc — we have the opportunity to turn such research into a key activity at Mines. Regardless of a student's ultimate career track, multi-year experiences beyond the classroom that encourage creativity and hands-on skills will yield students more prepared for success."
CONTACT
Emilie Rusch, Public Information Specialist, Communications and Marketing | 303-273-3361 | erusch@mines.edu
Rachelle Trujillo, Senior Director of Marketing and Communications, Colorado School of Mines Foundation | 303-273-3526 | rtrujillo@mines.edu