Mines Venture Center launches programming for student entrepreneurs ahead of construction start
New 33,000-square-foot facility will exponentially increase scope of support for launching new businesses, ideas through Mines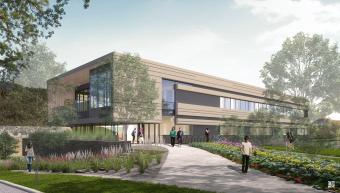 Mines Venture Center programming is underway on a small scale on campus, and fundraising continues to exponentially increase the scope of that support for launching new businesses and ideas through Mines.
A 3,500-square-foot temporary space in 1600 Jackson began welcoming student entrepreneurs earlier this month, and Venture Center staff expect it to fill up quickly with Mines community members looking for a collaborative and supportive environment in which to develop their business ideas.
"We don't want to have an empty new building and then have to fill it," said Werner Kuhr, Director of the Office of Entrepreneurship and Innovation. "If we're overflowing here in our temporary location, all the better. All the more opportunity available for students once we move into our permanent facility."
Construction on the permanent facility could begin as soon as late 2021. The parents of two recent Colorado School of Mines graduates, Mike and Kelly Beck, made a multimillion-dollar challenge gift in 2020 to attract and match other investments in the new facility during the Campaign for MINES@150. Initial sitework to clear the existing parking lot was completed this summer.
Once open, the three-story, 33,000-square-foot building at the corner of 17th Street and Washington Avenue will provide a mentoring, networking and learning space for Mines student, faculty and alumni entrepreneurs who want to build sustainable and successful commercial entities – from initial concept to incorporation to startup funding and beyond.
Through the center, students will have the opportunity to narrow their focus from broad-concept prototypes to refined market-ready products; collaborate to synthesize similar ideas; consult with a range of alumni and local business leaders, all of whom have expertise in areas critical to entrepreneurial development; determine and pursue the legal, intellectual property and capital needs important to their product's success, with potential opportunities for real investors to sign on; and establish marketing, production and distribution plans for creating and sustaining their business – right on the Mines campus.
"The key to entrepreneurship is working with other people. Having a diverse set of people have access to the same space at the same time is really key to transferring information," Kuhr said. "That's really what the heart of the new Mines Venture Center facility will be – we want to be the means by which people can meet others, engage with others, create more value than they could have on their own."
Entrepreneurship programming already underway
In the meantime, Venture Center staff aren't wasting time and have launched programming for the entrepreneurs on campus right now.
More than 200 Mines alumni and Golden community members have already signed up to work with student and faculty teams and provide mentorship on either an ad hoc basis or through the same online platform used by the campus-wide mentoring program, the Oredigger Network.
The temporary space in 1600 Jackson has room for up to 20 teams at a time, with students, faculty and alumni currently able to reserve a room for a day or walk in and use a desk.
New and continuing funding opportunities are also available for startups looking to take the next step, with additional resources available through Mines' participation in the newly announced $15 million National Science Foundation I-Corps Hub West Region.
For students, the center has a full calendar of innovation challenges planned for this semester. One recent event, a two-hour flash challenge sponsored by Denver-based VF Corporation, tasked students with developing ideas for the outdoors apparel company to use virtual reality.
"We're trying to take a little bit of a different tack in terms of thinking about creating entities," Kuhr said. "We're not expecting each student to create a Microsoft. We want to provide the resources to take the next step, to either incorporate a business, create a foundation or create an opportunity that will hopefully become a sustainable venture."
Fundraising continues for center construction
When it opens, hopefully in Fall 2023, the permanent Venture Center will feature a wide variety of spaces designed to encourage interaction throughout the business development process.
That includes a cafe/restaurant on the ground floor, pitch deck, event space, meeting rooms and classrooms for new companies and private offices for entities ready for their own dedicated space.
Sustainability will also be an important part of the center's construction, with Mines targeting at least LEED Gold certification from the U.S. Green Building Council, University Architect Chris Cocallas said.
The building aims to have a zero-carbon footprint, with all electric systems, and a novel ground source heat pump will capitalize on the stable temperature of the Earth's subsurface to heat and cool the building.
Opportunities are still available to leave a legacy by naming a space in the Venture Center or contributing to this future home for Mines entrepreneurs. Learn more at campaign.mines.edu/venturecenter.