Colorado School of Mines contributing to $15M NSF Western I-Corps Hub to boost tech innovation, launch startups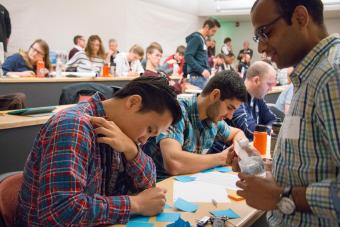 Colorado School of Mines is one of eight U.S. research universities forming a new consortium to help advance new technologies and incubate emergent companies that can move breakthrough discoveries from the lab to the marketplace. 
Funded by a $15 million award from the National Science Foundation, the I-Corps Hub West Region will be led by the University of Southern California Viterbi School of Engineering in partnership with the University of Colorado Boulder and the University of California-Los Angeles, and will include as affiliates Mines, California Institute of Technology, University of New Mexico, University of Utah and University of California, Riverside. 
The new I-Corps Hub program is part of NSF's expanded effort to cultivate new inventions and ventures in deep technologies. Deep technology, or scientific and engineering innovations that disrupt and spur the creation of future technologies, are often spun out of universities. They have been critical to bolstering the nation's competitive edge.  
For the past six years, universities in the new consortium have trained more than 925 entrepreneur teams through their participation in the NSF I-Corps program.  
Now, the I-Corps Hub West Region partners will lay the groundwork to launch and support startups, both university and non-university, through training, mentoring and programming throughout the West. Together, these universities will bring campus resources, talent and global networks, including relationships with accelerators and national labs, to support lean startups in their development.   
The I-Corps Hub West Region will also foster a culture of invention, innovation and entrepreneurship, leading to the creation of successful deep tech ventures by engineers, scientists and entrepreneurs who are people of color, and from the many diverse backgrounds of the Western United States. 
"For 10 years, the NSF I-Corps program has been critical to fostering the creative spirit and entrepreneurship that enables NSF-funded research to be translated into new products and services and contribute to the nation's economy," said NSF Deputy Assistant Director for Engineering Linda Blevins. "I am delighted to launch the first of our I-Corps Hubs, which will form the foundation for strengthening and scaling this innovation ecosystem. The I-Corps Hubs will bring together diverse scientists and engineers, entrepreneurs, business leaders and industry partners from every part of our country, providing everyone with an opportunity to solve key challenges and spur economic growth, including new startups and new jobs."
As the program grows, the Hub will also add new university affiliates each year, thus, further fostering the ecosystem of innovation in the Western United States.  
In addition to providing training and hosting technology scouting showcases that give entrepreneurs an opportunity to demonstrate their value to potential funders, the I-Corps Hub West Region will study incentives as well as impediments to further develop new, world-changing technologies.   
At Mines, a variety of entrepreneurial outreach activities are planned, including Innovation Challenges sponsored by corporate, federal and non-profit organizations; hackathons with student groups; and small-group activities where students might participate in regional or national challenges, said Melissa Krebs, Associate Professor of Chemical and Biological Engineering and the project's principal investigator at Mines.  
"In collaboration with Mines alumni, we will also be introducing more entrepreneurial content into courses at Mines to increase student exposure to entrepreneurship," Krebs said. "We want to provide the students with new perspectives, and to change the conversation about who can be a scientific leader and what that may look like."  
Mines' involvement in the I-Corps Hub will be hosted out of the Venture Center, a new facility currently in the design phase that will allow students, faculty and alumni to pursue commercialization of their research ideas and connect them with the mentors and facilities that they will need. Also collaborating on the project at Mines are Werner Kuhr, Director of the McNeil Center for Entrepreneurship and Innovation, and William Vaughn, Director of Technology Transfer at Mines.  
"The program at Mines will have full access to the resources of the partner institutions and will be able to send Mines startup companies to the partner facilities for training and access to NSF National Team programs, which include a $50,000 grant per team to ascertain the commercial viability of the commercialization of their research ideas," Kuhr said.