Colorado School of Mines receives $4.5M challenge gift to fund new business venture center
The Beck Venture Center – named in honor of lead donors Mike and Kelly Beck – could break ground this spring.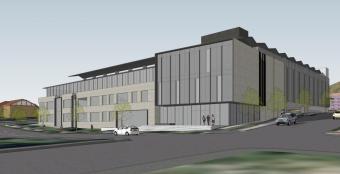 The parents of two recent Colorado School of Mines graduates have made a multimillion-dollar challenge gift to fund a new business venture center on the university's campus.
The challenge funds from Mike and Kelly Beck will be used to attract and match other investments in the new facility during the Campaign for MINES@150, up to $4.5 million. The Beck Venture Center will provide Mines student, faculty, and alumni entrepreneurs with the space, knowledge, mentoring support, and connections to other entrepreneurs and investors necessary to build sustainable and successful commercial entities. 
"Our hope is that this investment will further strengthen Mines' unique educational offerings and encourage students and faculty to transform their best science and engineering into new commercial ventures. In doing so, all will benefit. We are honored and privileged to play a supporting role in this worthy endeavor," Mike Beck said.
The Becks made their gift in recognition of the great Mines experiences of their sons, Nicholas '18 and Jonathan '19, the work of colleagues who are Mines alumni and Mines President Paul C. Johnson's vision for growing the entrepreneurial and innovation ecosystem at Mines and integrating it with the school's academic and research programs.
"Mike and Kelly Beck, seeing our growing emphasis on programs and facilities devoted to entrepreneurship and innovation, were the first to point out our need for a business venture center – a facility where the translation of student and faculty innovations to successful products and businesses happens. When they approached us with their idea and generously offered the lead gift to catalyze its launch, we knew this vision could become a reality," Johnson said. "With this investment and others in makerspaces and business programs, we have the opportunity to build an entrepreneurial and innovation ecosystem at Mines that eclipses all other engineering schools."
The Beck Venture Center will be located at the corner of 18th Street and Washington Avenue, on the current site of a Mines parking lot. The three-story, 40,000-square-foot facility will be attached to a six-story parking garage. Mines has not yet set a date for construction to begin, although it anticipates a groundbreaking this spring.
In addition to the space and programming to support students and faculty, the facility will also enable collaboration with industry, community partners and alumni engaged in the formation of startups and the expansion of the Mines intellectual property portfolio.
Mines officials toured other university innovation centers with the Becks last fall to inform their thinking and plans for the Mines facility and program.
The Campaign for MINES@150, which will officially launch this spring, is an ambitious public fundraising campaign focused on growing student access, success and the unique programs needed to continue Mines' 150-year history of producing highly successful engineers and scientists and the innovations needed by industry and society.
For more information on the new facility and how to get involved, please contact the Colorado School of Mines Foundation at csmfoundation@mines.edu or 303-273-3000.