Lincoln Carr to serve at U.S. State Department as Jefferson Science Fellow
"Quantum information science and technology (QIST) is at a crucial juncture," Carr said.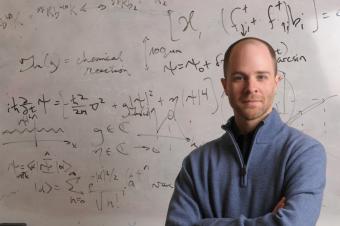 Lincoln Carr, professor of physics at Colorado School of Mines, has been named a Jefferson Science Fellow with the U.S. State Department.
Carr, an expert in quantum information science and technology, will spend a year serving as a foreign affairs officer in the State Department's Office of Science and Technology Cooperation, where he will work on international technology accords.
The diplomatic office promotes American scientific leadership and uses science, technology and innovation to advance American foreign policy interests.
"My father served in the Army and I have family in the Navy as well. As a scientist, I can imagine no better way to give back to my nation than by serving as a Jefferson Science Fellow," said Carr, a core member of Mines' growing cluster of quantum physics and engineering researchers. "Having built a rather unusual set of skills for a physics professor in middle America, I hope they can now be of use more broadly."
A program of the National Academies of Sciences, Engineering and Medicines, Jefferson Science Fellows spend a year on assignment at either the U.S. State Department or USAID advising on issues of foreign policy or international development. Following the fellowship, they return to their academic institutions but remain available as consultants to the U.S. government for short-term projects.
"My main goal for the Jefferson Science Fellowship is to help create positive intellectual relationships, strategic alliances and technological growth for the benefit of our country and humanity," Carr said. "I would like to bring expertise gained through this service home to my university and region to build our quantum engineering program into a world-class program serving the workforce needs of the country."
A member of the Mines faculty since 2005, Carr's research focuses on quantum complexity, open quantum systems and quantum transport. He holds a PhD and M.S. from the University of Washington and a bachelor's degree from the University of California, Berkeley. He is a fellow of the American Physical Society and previously served as a Distinguished International Fellow of the National Science Foundation.
"Quantum information science and technology (QIST) is at a crucial juncture. Much like computer science in the mid to late 20th century, in this century QIST will transform the world as we know it," Carr said. "The U.S. has intelligently and strategically invested in QIST via the National Quantum Initiative, signed into law in December 2018. The State Department has also achieved the Tokyo Statement on Quantum Cooperation, signed in December 2019, and the U.S.-Australia Joint Commission Meeting on Science and Frontier Technologies Dialogue is underway as of August 2020. I look forward to supporting our country to grow such technological dialogs and accords with many nations, including our close allies, such as the United Kingdom and South Korea."