Innovative graduate programs prepare students to lead the way in new and emerging technologies
Advanced Manufacturing, Quantum Engineering, Space Resources and Advanced Energy Systems are among the newest offerings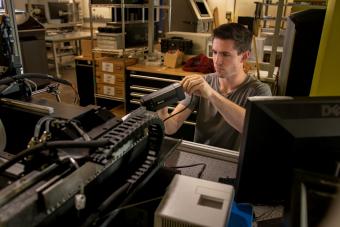 By Jenn Fields, Special to Mines Newsroom
As the global population increases and migrates into city centers, new technologies are emerging to meet the shifting demands of a changing way of life. The energy economy is transitioning to renewables, and cities are growing skyward and, increasingly, underground. Meanwhile, advances in materials science, robotics and quantum engineering are driving changes in how we live and work, from the move toward smart manufacturing to quantum-driven improvements in sensing and global communication.
In the past few years, Mines has developed innovative new graduate programs that address a growing demand for jobs focused on many of these emerging technologies. Each of these programs draws from the core areas of expertise Mines is known for — from civil and environmental engineering to extraction to materials science — to create an interdisciplinary field of study that prepares students for the next step in their careers. From that core, truly unique educational programs have emerged that, in some cases, are one of a kind.
"Mines, like any forward-looking university, is always looking at the next step, the next frontier, and throughout its long history has always reinvented itself," said Angel Abbud-Madrid, director of the Space Resources graduate program, the world's first academic program entirely focused on material resources in space, from exploration to extraction and efficient use.
Because Mines is a smaller institution, it's able to pivot quickly when the demands of research and industry shift, said Sridhar Seetharaman, associate vice president of research and co-director of Advanced Energy Systems, another of these new programs. "Mines is very nimble in terms of getting things done."
Addressing grand challenges with quantum engineering
The newest of these programs, in quantum engineering, addresses the national need for a quantum-smart workforce identified in the September 2018 White House report on the National Strategic Overview for Quantum Information Science. Past research in QIS led to technologies we now use every day, from magnetic resonance imaging (MRI) to global positioning system(GPS)-enabled devices. The 2018 report calls upon the scientific community to address promising "grand challenges" in the field, which include advances in sensing used for communication and meteorology to noisy intermediate-scale quantum technology that could be used to build more reliable devices. 
"Quantum technologies have grown quite a bit in the last 20 years. The lack of skilled people to fill the job openings in both academia and industry comes up repeatedly in conversations amongst potential employers in forums, such as the Quantum Economic Development Consortium," said Meenakshi Singh, assistant professor in physics. Many companies, national labs and universities have jobs that demand knowledge of quantum technologies, from cryogenics to optical traps, she said, and they're talking about a quantum revolution. But a lack of qualified workers is a serious roadblock to realizing the potential of quantum technologies.
Mines' new program aims to address this, she said. "We are working on fostering close collaboration with industry and national labs so that the program is designed to be relevant to them and maintains relevance over time."
Solving the manufacturing workforce challenge
Additive manufacturing is another growing field Mines is addressing with a specialized graduate program. The market for 3D printing has been doubling every three years, according to an analysis from 3D Hubs, and advanced manufacturing work is showing up in many areas of industry, said Craig Brice, director of Mines' advanced manufacturing program.
"We're getting employers who are seeking out this skill set, and having come from industry—I had been working in additive manufacturing for 20 years, it's been around that long—what has changed is that companies are paying attention to it now," said Brice, who worked at Lockheed Martin before coming to Mines to lead the program. "They recognize the potential, but they don't have a knowledgeable workforce that knows how to implement it."
Most engineering schools have 3D printers, Brice said, but what's unusual about Mines' program is the depth and breadth they can offer in an advanced education, from lean manufacturing to parts design to data science and integration. The program's first master's student graduated in December, he said, and she quickly landed a job. "They want employees coming in the door with not just one class but a collection of classes that gives them expertise they can immediately put to use."
Responding to the energy transition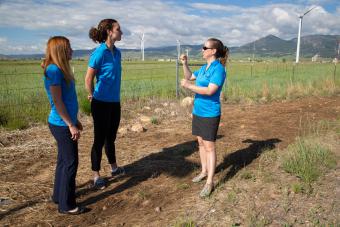 In the Advanced Energy Systems program, which started in 2018 in partnership with the National Renewable Energy Laboratory, graduate students are getting an advanced interdisciplinary education in the multi-layered complexities of the green energy transition.
"Coming from my own field, which is materials science, we often look at creating or testing some material that is going to be better than another material," said Seetharaman, who worked at the U.S. Department of Energy before coming to Mines to lead the program. But materials scientists aren't necessarily prepared to address supply or life-cycle challenges, not to mention questions of policy and economics, such as how many jobs will be created or displaced, he said. "However, these are all part of the same question."
People working in leadership at government agencies and companies driving the transition to renewable energy have to make these kinds of decisions. The master's and doctoral program ranges through policy, economics, engineering, science and social sciences to address the array of questions professionals will face. "It cuts across departments," Seetharaman said.
Underground is the next frontier
As the energy economy shifts, so is the way civil engineers are creating space in busy cities that are projected to become even more crowded in the future. "The demand for underground space development grows with urbanization across the country," said Mike Mooney, director of Mines' Center for Underground and its graduate program in underground construction and tunnel engineering.
"The United Nations is predicting a 25 percent increase in city populations over the next 30 years. This brings a greater need for living and working space, as well as civil infrastructure for water, wastewater, energy and transportation," he said. "And people desire urban quality of life, including more green space and interaction with nature. New York City built a park underground. So, there's a bright future for underground space development. In many ways, underground is the next frontier."
Mines' graduate program started in 2012 and is the only one of its kind in North America. It boasts a 100 percent job placement rate for graduates, who take courses in civil, geological and mining engineering. "It's a very interdisciplinary field, we all had something to contribute to the education of students who would pursue careers in tunnel engineering," Mooney said.
Exploring mineral resources—in space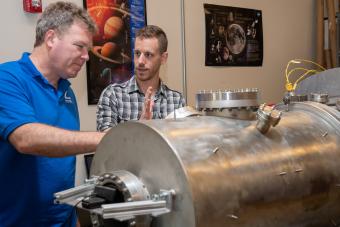 In 2018, Mines launched a program that is perhaps even more futuristic: Space resources. In an era when the private sector is investing in space and aerospace is booming, providing the research and tools to take the next generation to the Moon, asteroids, Mars and beyond is just the next step in Mines' long relationship with the space program.
"Mines was one of the first universities involved in space resources, starting with a meeting NASA held in 1962 focused on studying methods to extract oxygen from the Moon for the use of astronauts," Abbud-Madrid said. "We were there from the very beginning because we knew we had the expertise here on Earth, so why not start applying it to other destinations beyond our planet?"
Throughout the history of the space program, NASA missions have "carried everything from Earth, every nut and bolt," said Abbud-Madrid. "And at some point, that's going to limit what we can do in space. Let's start utilizing resources available to us in space and learn to live off the land."
The day after the space resources program launched at Mines, they were getting inquiries from all over the world, Abbud-Madrid said. "We noticed that interested people were already professionals in a variety of fields. They already had years of experience. They were interested in our program because it could be useful for their own space agencies and companies."
Now, he said, "We have more than 80 students from five continents." Their coursework at Mines has proven to be a catalyst for job creation, too. "It has given way to six or seven new companies from startups all over the world," Abbud-Madrid said. "When you get an engineer together with an economist or a roboticist and a geologist, they come up with great ideas for new space ventures. Tapping into a new field gives you these unique opportunities."