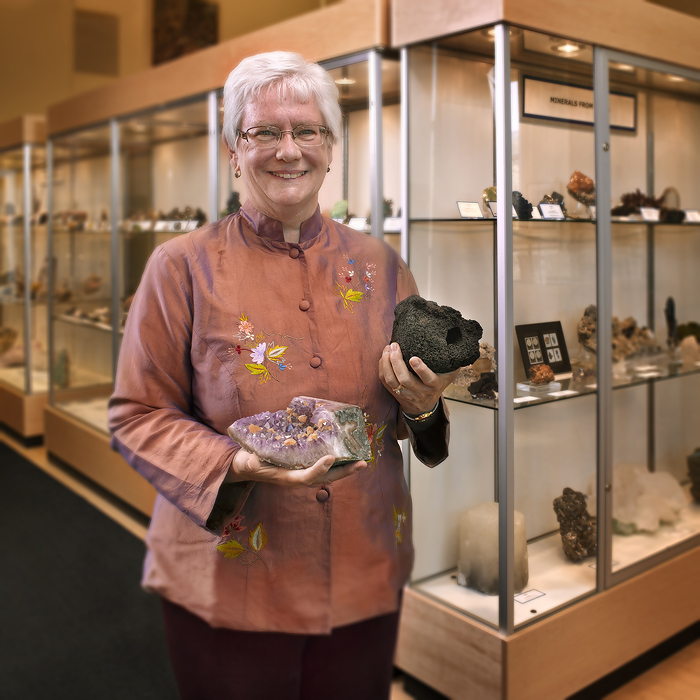 Founded in 1893, ASEE is a nonprofit organization of individuals and institutions committed to furthering education in engineering and engineering technology. The organization promotes excellence in instruction, research and public service, and fosters technological education. The honor of fellow is bestowed by the ASEE Board of Directors upon members in recognition of outstanding contributions to engineering or engineering technology education.
The first female to earn a graduate degree at Mines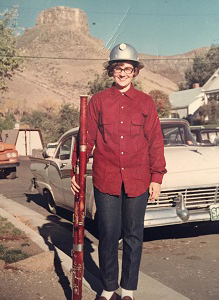 Skokan's early interest in rocks led to a love of science, and a wise high school counselor suggested she combine her skills in math and science with her passion for the outdoors and study geophysics.
"I remember I applied to LeHigh University as C. King, my maiden name," said Skokan, "because they weren't accepting women at the time. But they eventually figured out I was a woman."
Mines, on the other hand, offered Skokan a full scholarship. She received her bachelor's degree in geophysical engineering in 1970, and went on to become the first woman to receive a graduate degree from Mines in any field, receiving her master's degree in 1971, and PhD in 1974. Her goal remained conducting research for a government organization.
From government researcher to university professor
Skokan's many contributions to engineering education and to Mines, in particular, almost never came to be. She originally saw herself solely as a researcher rather than a teacher. Thanks to a delay in her government paperwork, she returned to Mines to do postdoctoral research in electromagnetics while waiting to start her new job. Skokan shared how her plans changed: "Just before the beginning of the fall semester, George Keller, who was the head of the department and my thesis advisor, came in and said, 'We need someone to teach linear systems analysis.'
"I said, 'I don't teach.'
"He said, 'Classes meet Monday, Wednesday and Friday.' He handed me the class notes, told me what time it started and walked out the door.
"Linear systems was not one of my favorite subjects, though it is now."
Skokan credits Keller as a mentor throughout her early career. She went on to accept a tenured faculty position in Geophysics. In 1996, she moved to what was then the Engineering Division at Mines (now the College of Engineering and Computational Sciences), where she spent the next 20 years teaching linear systems, senior design and geophysical courses to electrical engineering students.
"Several of my research grants centered around electromagnetic methods of mapping earth structures," Skokan explained, "so I got to combine electrical engineering and geology, which was the best of all worlds."
Humanitarian Engineering Program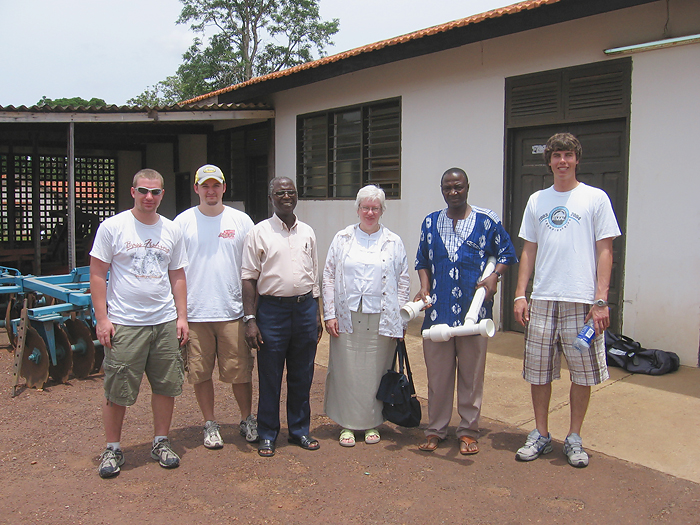 Skokan was also one of the initiators of the Humanitarian Engineering program at Mines, the first in the nation. Initial funding from the Hewlett foundation aimed to take student engineers to communities that needed their skills most. As a result, Skokan took student groups to Senegal, Honduras and Ghana to work on solving real problems with engineering solutions.
Skokan recalls a particular Humanitarian Engineering trip to Alaska:
"An Alaskan tribal community had invited us to help with projects to prepare them for a community center. Over multiple years, we designed a road and septic system, among other things. One year, we were driving out there from the airport, and a student asked, "Do they live in igloos?" I told him, no, and that he would see what they lived in soon. The Bureau of Indian Affairs had built a series of prefab houses intended for Hawaii, and when they weren't needed in Hawaii, they were sent there. Some members of the community lived in old school buses, and it reached -40 Fahrenheit during the winters. We left with a real sense of doing work that was needed. It was an eye-opening experience for all of us."
Humanitarian Engineering students traveled to the University of Ghana with Associate Professor Skokan in 2007 as part of their senior design project.
Music at Mines
Skokan still believes that international experiences are essential for every engineer's education, and often travels with Mines music students. She currently plays violin with the Mines Orchestra, bassoon with the Mines Band and erhu with the Mines Chinese Band.
"I've played in the band since I was a student here in the 60s," said Skokan. "Believe it or not, I was the first director of the orchestra here, until they finally hired a real musician rather than an engineer to conduct the orchestra."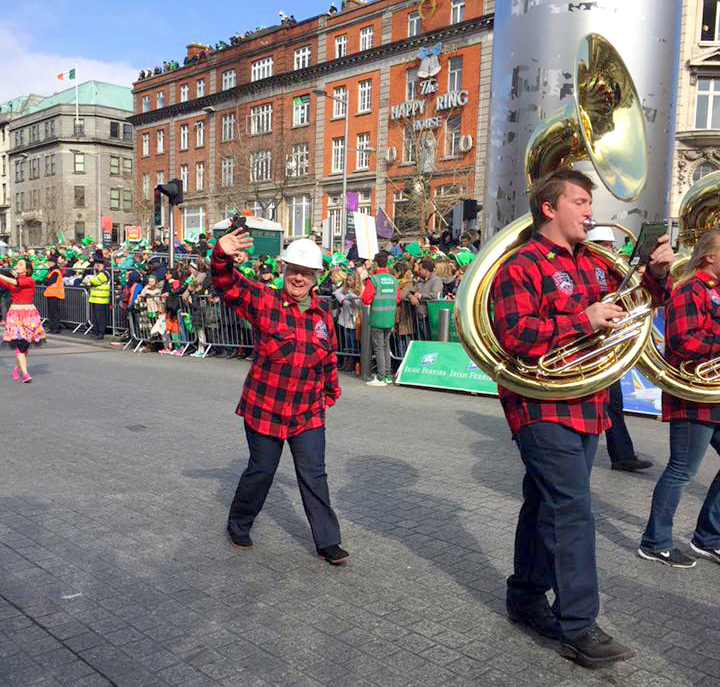 Catherine Skokan and the Mines Marching Band in Dublin's 2015 St. Patrick's Day Parade.
In 2016, Skokan led 150 Mines music students and alumni on a spring trip to march in Dublin's St. Patrick's Day Parade. "We always combine an engineering and musical component on these trips," explained Skokan. "In Ireland, we visited Dublin Institute of Technology, with whom we are now working on a collaborative effort. I also took a group of students into the Tara Mines, a lead and zinc mine near County Meath. Because we are engineers, not just tourists, they took us underground and the students had a blast exploring the machinery. It included electrical, mechanical, civil, mining, geology— talk about interdisciplinary!"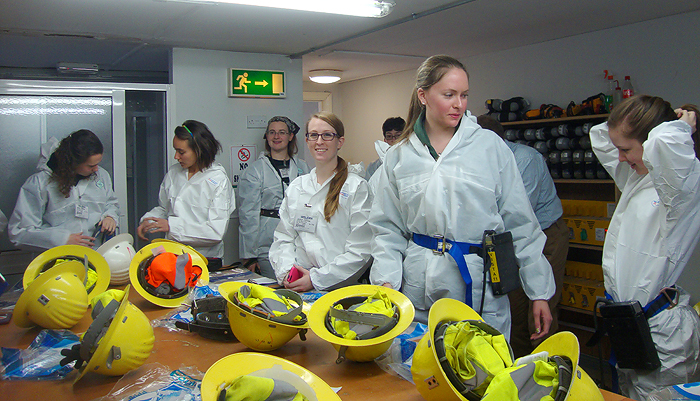 Students prepare for an underground tour of the lead and zinc Tara Mine in Co. Meath, Ireland.
In 2015, Skokan accompanied Mines music students and alumni to Jamaica. In addition to meeting with engineering students at the University of the West Indies, the Mines group participated in a recording session with Winston "Sparrow" Martin, Bob Marley's percussionist, at the studio that Bob Marley founded.
In 2017, Skokan will be taking Mines music students to Florence. "We'll be visiting Santa Croce," said Skokan, "where Galileo, Michelangelo and Rossini are buried. It's also right on the Arno River, which flooded in 1966, killing more than 100 people and destroying millions of masterpieces. So we're going to talk to a professor from the University of Florence about flood mitigation and art restoration."
Innovation in engineering education
Skokan became involved in ASEE around the time that she joined the Department of Electrical Engineering and Computer Science. She spent a sabbatical writing a pre-engineering curriculum for Adams School District, which is still in use.
"Every project had a computer, math, writing and engineering component," said Skokan.
"I joined the multidisciplinary division of ASEE," continued Skokan, "because electrical, mechanical and civil were all under the Engineering Division in those days. I went from Secretary, to Treasurer, then Program Chair and finally Chair." Skokan is currently the ASEE Vice President for External Relations, which includes chairing ASEE's international advisory committee and external projects.
"The best thing ASEE offers," according to Skokan, "is workshops and venues to look at innovative teaching methods—those that worked and those that didn't. I believe looking at the failure papers can be even more educational than the success papers." 
Despite retiring in 2015, Skokan remains as busy as ever. She will be giving a talk in Japan at the annual Japanese Society for Engineering Education meeting, and another in Korea in November at an engineering education conference. 
Skokan is the third Mines faculty member to be named an ASEE Fellow in addition to Theodore A. Bickart in 2000 and Joan Gosink in 2010.
All photos from the personal archives of Emerita Associate Professor Catherine Skokan.
Contact:
Deirdre Keating, Communications Manager, College of Engineering & Computational Sciences | 303-384-2358 | dkeating@mines.edu
Kathleen Morton, Digital Media and Communications Manager, Colorado School of Mines | 303-273-3088 | kmorton@mines.edu