Toberer honored with Presidential Early Career Award
Eric Toberer, associate professor of physics at Colorado School of Mines, has won the U.S. Presidential Early Career Award for Scientists and Engineers (PECASE).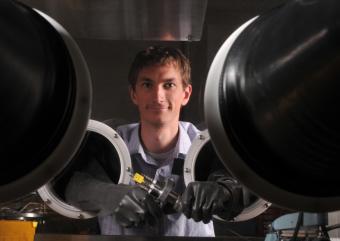 The PECASE is the highest honor bestowed by the U.S. government to scientists and engineers who are early in their careers as researchers and show leadership promise in fields of science and technology. The White House announced the winners last week.
Toberer's research focuses on non-traditional thermoelectric and photovoltaic materials. He was nominated for the honor by the National Science Foundation, which recognized him in 2016 with its most prestigious award in support of junior faculty, the NSF CAREER Award.
In addition to his teaching and research portfolio, Toberer also serves as director of Mines' materials science program and as one of the inaugural Ben L. Fryrear Chairs for Innovation and Excellence, where he is leading efforts to catalyze a distinctive program for undergraduate research on campus. 
Toberer joined Mines in 2011. He earned a bachelor's degree in chemistry from Harvey Mudd College and holds a PhD in materials from the University of California, Santa Barbara. 
Established in 1996, PECASE acknowledges the contributions that scientists and engineers have made to the advancement of science, technology, engineering and mathematics education and to community service as demonstrated by scientific leadership, public education and community outreach. The White House Office of Science and Technology Policy coordinates the PECASE with participating departments and agencies.