Paulo Cesar Tabares-Velasco wins ASHRAE Distinguished Service Award
Tabares-Velasco worked with Mines Facilities Management during the pandemic to strengthen HVAC systems to reduce the risk of COVID-19 transmission.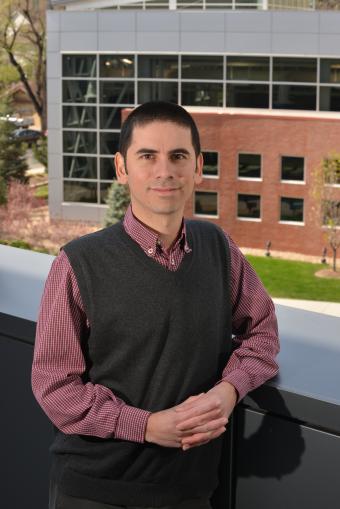 Paulo Cesar Tabares-Velasco, assistant professor of mechanical engineering at Colorado School of Mines, has been honored with the Distinguished Service Award from the American Society of Heating, Refrigerating and Air-Conditioning Engineers (ASHRAE). Tabares-Velasco will be presented the award virtually at ASHRAE's 2021 annual conference in June.
ASHRAE gives out the Distinguished Service Award to recognize members who have served ASHRAE faithfully and with distinction on committees or otherwise giving freely of their time and talent on behalf of the society.
An expert in building energy simulation, thermal storage and green roofs, Tabares-Velasco leads the Advanced Multiscale Building Energy Research (AMBER) Group at Mines. During the COVID-19 pandemic, he worked closely with Mines Facilities Management to strengthen the school's heating, ventilation and air conditioning (HVAC) systems to help reduce the risk of airborne COVID-19 transmission in campus buildings in line with the latest ASHRAE guidelines. He also helped lead an effort to collect and analyze data on the HVAC changes, to calculate the overall probability risk of airborne transmission in specific rooms.
Before coming to Mines, Tabares-Velasco was a research engineer at the U.S. Department of Energy's National Renewable Energy Laboratory (NREL), where he developed the simulation environment for NREL's Smart Power Lab. He holds a PhD in architectural engineering from Pennsylvania State University, a M.S. in mechanical engineering from Colorado State University and a B.S. in engineering physics from the Monterrey Institute of Technology.
ASHRAE, founded in 1894, is a global society advancing human well-being through sustainable technology for the built environment.