New integrative scholars program offers customizable learning experiences in sustainable energy
Sustainable Energy@Mines will prepare students to hit ground running as energy professionals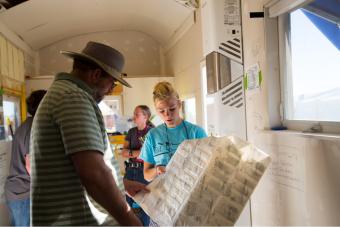 A new signature student experience at Colorado School of Mines will allow undergraduates from all majors to build their own hands-on learning experience in the field of sustainable energy.
Launched this semester, Sustainable Energy@Mines (SE@M) is a fully customizable pathway of distinction, combining classroom instruction, co-curricular and extracurricular experiences alongside opportunities for community building that students can integrate with their other academic studies.
Students who complete the SE@M pathway will be recognized at graduation with a regalia honor cord and a distinction in the Commencement Program. Moreover, they will graduate from Mines with a body of learning experiences – both in and out of the classroom – that will better prepare them to hit the ground running as energy professionals.
"The goal is to create a community of people at Mines focused on learning about and shifting the landscape of renewable and sustainable energy," said Paulo Cesar Tabares-Velasco, assistant professor of mechanical engineering and director of the SE@M Scholars Program. "In order to meet the needs and challenges of the energy transition, we need as many professionals as possible to be involved in sustainable energy – not just energy engineers but geologists, economists, computer scientists, policy makers and more. Through this program, we're not only going to recognize what Mines students are already doing but also support, encourage and make it easier for even more students to find their path in sustainable energy."
Funded by a MINES@150 grant from the Mines Faculty Senate, the program was co-developed with Tim Ohno, associate professor of physics, and Leslie Light, teaching associate professor of engineering, design and society, with substantial input from Adam Schwartz, a senior in mechanical engineering and University Innovation Fellow.
In part, SE@M was inspired by Tabares-Velasco's own path to research and teaching in the field of energy efficiency. Before he was the director of the Advanced Multiscale Building Energy Research (AMBER) Group at Mines or a researcher at the U.S. Department of Energy's National Renewable Energy Laboratory, he was a physics student at the Monterrey Institute of Technology in Mexico who considered becoming an astronomer.
The final project in his alternative energies class changed everything. He and a group of friends traveled 700 miles to an isolated community in the Sierra Tarahumara in Northern Mexico where residents had to walk one to two miles to the nearest stream for water. Together, they came up with a project to install solar panels to power pumps that could transport water once or twice a day into tanks closer to where the residents lived.
"It changed my life. I went from wanting to be an astronomer to wanting to work on energy," Tabares-Velasco said. "I was able to see that I could have an impact – my work could have an impact on people's lives."
Similar opportunities for real-world learning are integrated into the SE@M experience. SE@M Scholars can get involved in projects related to sustainable energy in and around Mines and around the world – whether that's joining the Solar Decathlon team on campus, completing an internship at local energy companies, conducting undergraduate research with a Mines professor or at NREL, providing free energy assessments to local businesses through the Rocky Mountain Industrial Assessment Center, or traveling the world with Mines Without Borders. 
"I personally wanted to join SE@M because I want to be able to interact with more people who understand my passion for energy and sustainability. It will not only help further educate students but push them to become more involved with the future of energy," said Imani Garcia, a senior in the Bachelor of Science in Engineering program who has conducted undergraduate research and participated in internships. "Although it will start small, this distinction could continue to grow and one day become a well-known staple at Mines."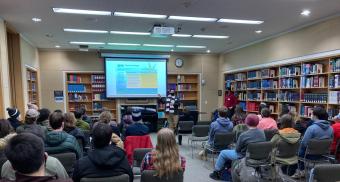 SE@M Scholars must complete a minimum number of activities in each of three categories – Learn, Apply and Build Community – but from there, they can focus more or less in the areas that speak most to them. A number of specialized one- to two-credit courses are being developed for the program, and scholars will also have access to mentoring, help with travel and publishing expenses, and support to apply to sustainable energy scholarships and internships.
"Sustainable energy is more than just solar and wind power. It's also about making sure people can live a good healthy life with the minimum amount of energy we can use, and trying to do that for everyone, not just those with good salaries," Tabares-Velasco said. "To do that, we need to cast a very wide net to get students from all different majors and interests to work in this field. At the same time, SE@M will also help build them into better professionals – by combining classes with internships and community building, they're going to be much more effective and productive in the field from Day 1." 
For more information about Sustainable Energy@Mines, go to https://www.mines.edu/sustainable-energy/.