Mines, Red Rocks Community College receive funding from DOE to improve energy efficiency in manufacturing
Rocky Mountain Industrial Assessment Center will train next generation of workers focused on energy efficiency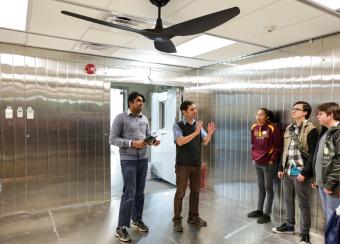 Colorado School of Mines, together with Red Rocks Community College, were selected as part of a $60 million investment by the U.S. Department of Energy (DOE) to fund its largest-ever cohort of university-based Industrial Assessment Centers (IAC) to assist small- and medium-sized manufacturers to reduce their carbon emissions and lower energy costs, while also training the next generation of workers focused on energy efficiency.
The Rocky Mountain Industrial Assessment Center, the name of the new IAC being administered by Mines and Red Rocks, will result in shared courses where students from both institutions can learn about how to improve energy efficiency in the building and manufacturing industry.
"Colorado School of Mines is honored to be part of such an ambitious effort with the Department of Energy, investing in the future of energy efficiency in the built environment and manufacturing processes," said Dr. Walt Copan, vice president for research and technology transfer at Mines. "Partnering with Red Rocks Community College is a natural fit, and we're excited to leverage the resources – students, faculty and facilities – of both institutions in this important initiative."
"Partnering with Mines on the Rocky Mountain Industrial Assessment center fits with our mission of developing the next generation of energy workforce to improve efficiency in Colorado's manufacturing sector," said Liz Cox, director of the IDEA Institute at Red Rocks Community College. "We look forward to engaging our students in this unique hands-on learning opportunity in energy management."
Through this funding, the DOE will support a total of 32 universities nationwide in creating and administering IACs. Along with improving productivity, enhancing cybersecurity, and promoting resiliency planning, the centers will train diverse students and professionals to conduct energy-efficiency assessments of small to medium-sized buildings, including those located in disadvantaged communities.
The Rocky Mountain Industrial Assessment Center should be up and fully running by the beginning of 2022, said Tim Ohno, associate professor of physics and the Mines lead on the IAC. Once that happens, there will be opportunities for both Mines and Red Rocks students to be hired for paid internships.
"In the classroom setting, you can't always focus on real world details," Ohno said. "The students that we hire in the future for internships through the Rocky Mountain IAC will gain actual hands-on experience learning about energy management in building and manufacturing, which will be valuable once they graduate and are looking to begin their careers."
To date, the IACs program, one of the DOE's longest-running programs managed by the Advanced Manufacturing Office (AMO), has provided nearly 20,000 no-cost assessments for small- and medium-sized manufacturers and more than 147,000 recommendations for improvement measures. Assessments typically identify more than $130,000 in potential annual savings opportunities. 
"The Colorado School of Mines is a leader here in Colorado and across the country and the world for their research and work to advance knowledge in the areas of renewable energy sources and technology, advanced water treatment, high-performance computing, and more," said U.S. Representative Ed Perlmutter (CO-07), in a DOE news release. "I'm pleased to see the institution chosen as an Industrial Assessment Center to work with small and medium-sized businesses and their employees to become more sustainable, efficient and resilient."