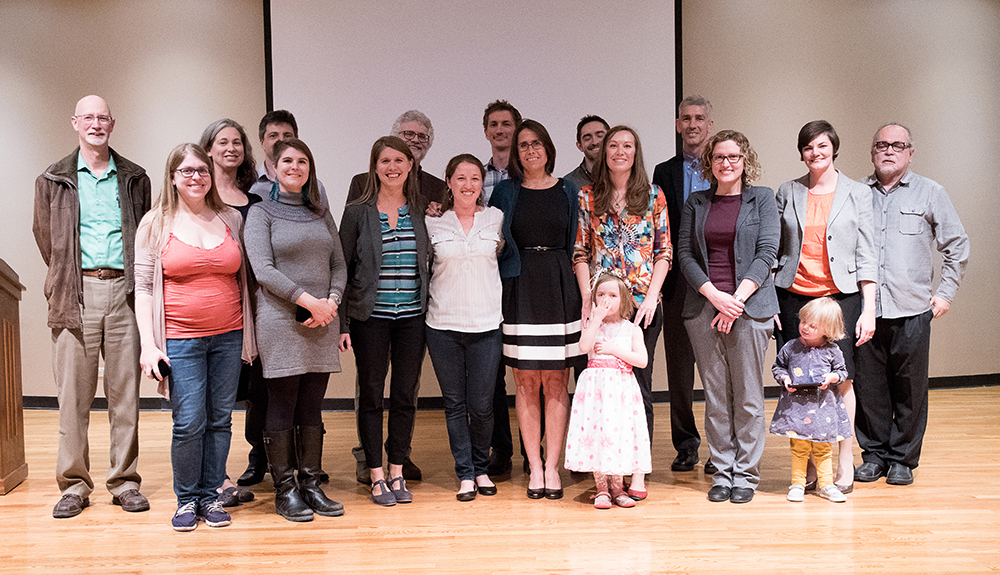 Colorado School of Mines celebrated its outstanding faculty at its annual Faculty Forum, held May 3, 2017, in Friedhoff Hall.
Geology and Geological Engineering Professor Kamini Singha received the Dean's Excellence Award, which recognizes a tenured or tenure-track faculty member for significant and meritorious achievement in teaching and scholarship.
Since joining Mines in 2012, Singha has taught groundwater engineering, hydrogeology, Matlab and geostatistics, consistently earning faculty evaluation scores well above average. She has also team-taught a McBride Honors course on water, energy and the West.
Singha is an NSF CAREER Award winner, has received numerous grants and has published over 50 peer-reviewed articles. Eighteen of those articles had her students as first authors, showing exemplary mentorship of graduate students. She is the National Ground Water Research and Educational Foundation's 2017 Darcy Lecturer.
The Mines Teaching Award, given each year to a member of the teaching faculty and a tenured or tenure-track faculty member, recognizes superior teaching at the undergraduate level over several years.
Physics Teaching Professor Kristine Callan, who was also promoted, was recognized for her leadership role in Introductory Mechanics, one of the cornerstone courses for all Mines students. She has also provided significant service to Mines by leading efforts to create a pathway for students to become high school teachers. The collaboration with University of Northern Colorado faculty has led to National Science Foundation grants, including $640,00 for scholarships.
Applied Mathematics and Statistics Associate Professor Stephen Pankavich, who was also awarded tenure and a promotion, has taught eight different courses since joining Mines in 2012. He has developed two new courses—Introduction to Scientific Computing and Applied Numerical Methods—and consistently earns evaluations above department and university averages.
The Junior Research Award went to Mechanical Engineering Assistant Professor Aaron Stebner, who is also technical director of the Alliance for the Development of Additive Processing Technologies. The Senior Research Award was presented to Rowlinson Professor of Hydrology Reed Maxwell, in the Department of Geology and Geological Engineering.
Seventeen faculty were awarded promotion and/or tenure:
Debra Carney, Applied Mathematics and Statistics, promotion to teaching professor
Mike Nicholas, Applied Mathematics and Statistics, promotion to teaching professor
Stephen Pankavich, Applied Mathematics and Statistics, tenure and promotion to associate professor
Rebecca Swanson, Applied Mathematics and Statistics, promotion to teaching professor
Susan Reynolds, Civil and Environmental Engineering, promotion to teaching professor
Allison Caster, Chemistry, promotion to teaching associate professor
Matthew Posewitz, Chemistry, promotion to professor
Scott Houser, Economics and Business, promotion to teaching professor
Salman Mohagheghi, Electrical Engineering, tenure and promotion to associate professor
Marcelo Simoes, Electrical Engineering, promotion to professor
Yvette Kuiper, Geology and Geological Engineering, tenure and promotion to associate professor
Sarah Hitt, Humanities, Arts and Social Sciences, promotion to teaching professor
Jessica Smith, Humanities, Arts and Social Sciences, tenure and promotion to associate professor
Ventzi Karaivanov, Mechanical Engineering, promotion to teaching professor
Anne Silverman, Mechanical Engineering, tenure and promotion to associate professor
Corinne Packard, Metallurgical and Materials Engineering, tenure and promotion to associate professor
Kristine Callan, Physics, promotion to teaching professor,
Eric Toberer, Physics, tenure and promotion to associate professor
Senior Class Faculty Awards, voted on by students, were presented to the following:
Applied Mathematics and Statistics: Professor William Navidi
Chemical and Biological Engineering: Professor J. Douglas Way, Teaching Associate Professor Rachel Morrish
Chemistry: Professor Mark Eberhart
Civil and Environmental Engineering: Assistant Teaching Professor Jeffrey Holley
Computer Science: Teaching Associate Professor Christopher Painter-Wakefield
Economics and Business: Assistant Professor Peter Maniloff
Electrical Engineering: Teaching Associate Professor Stephanie Claussen
Geology and Geological Engineering: Associate Professor Bruce Trudgill
Geophysics: Assistant Professor Andrei Swidinsky
Humanities, Arts and Social Sciences: Teaching Assistant Professor Seth Tucker
Mechanical Engineering: Teaching Associate Professor Robert Amaro
Metallurgical and Materials Engineering: Teaching Professor Gerald Bourne
Mining Engineering: Adjunct Professor John Grubb
Petroleum Engineering: Associate Professor Jennifer Miskimins, Assistant Professor Luis Zerpa
Physics: Professor Mark Lusk
Contact:
Mark Ramirez, Managing Editor, Communications and Marketing | 303-273-3088 | ramirez@mines.edu
Ashley Spurgeon, Assistant Editor, Mines Magazine | 303-273-3959 | aspurgeon@mines.edu