Kathryn Johnson named Fryrear Chair for Innovation and Excellence 
Endowed by Mines alum Ben Fryrear '62, the chair supports Mines faculty working to further the university's vision, mission
Kathryn Johnson, professor of electrical engineering, has been awarded a Ben L. Fryrear Endowed Chair for Innovation and Excellence to drive institutional change at Colorado School of Mines.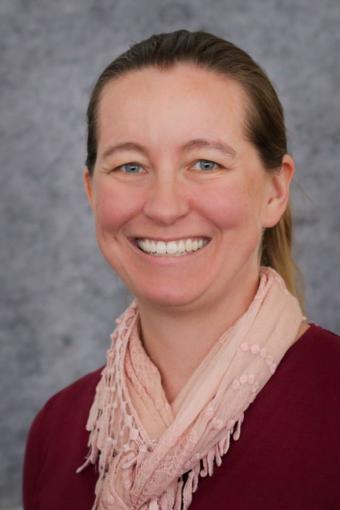 Endowed by Mines alum Ben Fryrear '62 in 2017, the chair recognizes and supports highly accomplished Mines faculty members working to further the vision and mission of the university, for a term of three years.  
Dr. Johnson, who also holds a joint appointment at the U.S. Department of Energy's National Renewable Energy Laboratory (NREL), plans to focus her Fryrear term on "macroethics" and sustainability by creating a supportive community of Mines faculty incorporating both into their teaching and research. 
"The idea behind the 'Macroethics for Sustainability' initiative is to foster a broader sense of collective responsibility and action across engineering that increases the sustainability of engineering solutions, including sociotechnical decisions about technology," Johnson said. "Engineering technologies both shape and are shaped by the social, political, environmental, and economic environments in which they are situated." 
A member of the Mines faculty since 2005, Johnson holds a PhD and M.S. from the University of Colorado Boulder and a B.S. from Clarkson University, all in electrical engineering. She was promoted to full professor for the 2021-2022 academic year.  
Johnson's research focuses on two areas – wind energy control systems and engineering education. Some of her recent wind energy control projects include optimal wind farm control, control of ultra-scale 25-MW and 50-MW wind turbines, and control co-design for novel floating offshore wind turbine structures.  
Her engineering education research centers on understanding and promoting macroethics and sociotechnical thinking within engineering education, for which she was recognized in 2021 with a Fulbright Canada Research Chair in STEM Education Award at the University of Calgary. 
For her Fryrear project, Johnson will convene a group of faculty members from different Mines communities to discuss their interest in macroethics, providing resources, opportunities to learn from each other and generating an understanding of shared goals and motivations. These initial meetings and small workshops will "snowball" into a larger cohort of faculty and students in the second and third years, with regular assessment used to ensure the activities are useful to participants and effective for both teaching and research. 
"Within classes, macroethical concepts can help students to understand real-world sociotechnical implications of the engineering problem definition and solution processes to make their engineering decisions more sustainable," Johnson said. "In research, macroethics for sustainability can support more convergent research to address the highly multi-disciplinary, complex problems facing the world today, especially those connected to Earth, Energy, and Environment." 
With her appointment, Johnson joins a cohort of four fellow Fryrear Chairs: Alexis Navarre-Sitchler, professor of geology and geological engineering; Craig Brice, professor of practice of mechanical engineering; Moises Carreon, professor of chemical and biological engineering; and Mohsen Asle Zaeem, associate professor of mechanical engineering. 
Each Fryrear chair receives $25,000 in discretionary funds a year for three years in exchange for driving a strategic initiative or program that furthers the vision and mission of Mines.