Spider-inspired floating turbine base could help reduce cost of offshore wind energy in U.S.
Mines' Kathryn Johnson is co-leading the controls work for the innovative 10‐MW Ultraflexible Smart Floating Offshore Wind Turbine (USFLOWT)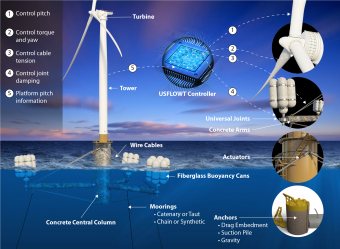 Researchers at Colorado School of Mines are contributing to a $1.5 million U.S. Department of Energy project that could help reduce the cost of offshore wind energy in the United States by simplifying turbine construction and maintenance logistics in the challenging deep-water environments found off the coast of many parts of the country.
Kathryn Johnson, associate professor of electrical engineering, is co-leading the controls work for the innovative 10‐MW Ultraflexible Smart Floating Offshore Wind Turbine (USFLOWT) in collaboration with engineers at the National Renewable Energy Laboratory (NREL), University of Colorado Boulder, University of Virginia and the American Bureau of Shipping. With modular components that resemble spider legs, the platform technology was initiated by two of the USFLOWT team members at NREL, where Johnson holds a joint appointment.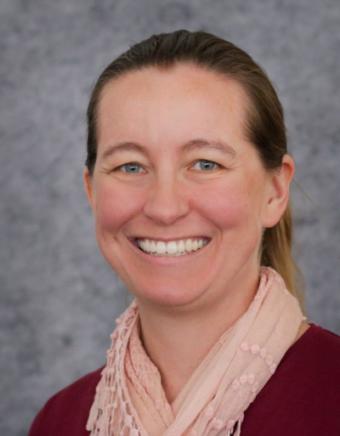 "Compared to Europe, which already has many offshore wind farms, the United States has much deeper water near the shore – our land slopes away much more quickly," Johnson said. "That means we can't install many fixed-bottom offshore wind turbines near our population centers – we have to do more floating offshore turbines, but floating turbines are much more expensive. Our goal is to develop a much cheaper platform concept so we can install more of these and more easily transmit the electrical energy to cities."
Funding for the two-year project comes from the Advanced Research Projects Agency-Energy (ARPA-E). The NREL-led project was one of 13 funded as part of ARPA-E's Aerodynamic Turbines, Lighter and Afloat, with Nautical Technologies and Integrated Servo-control (ATLANTIS) program.
Unlike current floating wind turbine technology, the USFLOWT system could be towed into place after being assembled nearby from modular and mass-produced parts.
And instead of the turbine itself moving, the floating platform – or its arms and buoyancy cans – is designed to absorb the wave energy that can't be directed into electricity.
"In offshore environments, you have a lot of wave excitation. The waves are acting on the machine, as well as the wind, and those aren't always aligned in a good way," Johnson said. "With USFLOWT, we may be able to absorb that motion into the platform instead of the turbine."
The controls and control co-design systems that Johnson is developing are an integral part of the base's innovation. Actuators can actively control cable tension, reeling in the cables tighter or looser depending on what's coming.
"The ability to produce more cost-effective electrical energy by wind turbines offshore – a key goal of the USFLOWT project – is a step toward increased energy independence for the U.S.," Johnson said.