Kamini Singha wins SEG Reginald Fessenden Award
Honor recognizes Singha's "extensive and significant contributions of applied geophysics to hydrogeophysics"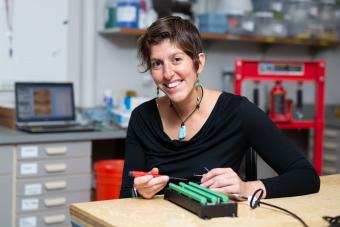 Kamini Singha, University Distinguished Professor of Geology and Geological Engineering at Colorado School of Mines, is the recipient of the 2022 Reginald Fessenden Award from the Society of Exploration Geophysicists (SEG).
The special award recognizes individuals who have made a specific technical contribution to exploration geophysics, such as an invention or a theoretical or conceptual advancement.
Singha, whose research focuses on physical hydrologic processes on the Earth's surface and subsurface, was selected for "her extensive and significant contributions of applied geophysics to hydrogeophysics, including critical zone hydrology, anomalous solute transport, and water resources management."
"In particular, she has documented the occurrence and prevalence of solute mass transfer in heterogeneous porous media by applying electrical methods to measure both temporal and spatial changes of fluid," the citation reads. "This methodology has also allowed for improved understanding of fluid flow and solute exchange in groundwater-surface water systems. Singha's work has pushed the application of geophysics in hydrogeology, including the application of exploration geophysics to image tree water use, changes in subsurface biogeochemistry, and contaminant transport."
Singha joined the Mines faculty in 2012 as an associate professor in the Department of Geology and Geological Engineering and was promoted to full professor in 2016, with joint appointments in the Departments of Civil and Environmental Engineering and Geophysics. She is a core faculty member in the Hydrologic Science & Engineering Program at Mines and also serves as associate dean for Earth and Society Programs.  Singha holds a PhD in hydrogeology from Stanford University and a B.S. in geophysics from the University of Connecticut.
Singha will receive the award during the 2022 International Meeting for Applied Geoscience & Energy (IMAGE) in Houston in August.