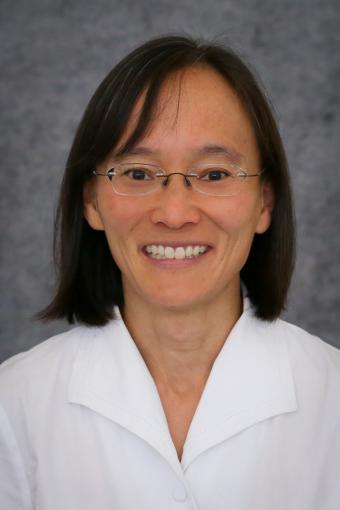 Junko Munakata Marr is the new head of the Civil and Environmental Engineering Department at Colorado School of Mines.
A longtime member of the Mines faculty, Munakata Marr joined the university in 1996 as a research assistant professor before accepting a tenure-track assistant professor position in 1999. She has served as interim department head since July, when Terri Hogue stepped down to move into the Provost's Office as interim — and now permanent — dean of earth and society programs.
"I'm excited and honored to be leading the Civil and Environmental Engineering Department at Mines," Munakata Marr said. "We have fabulous faculty, staff and students, with great strengths in a multitude of areas within civil and environmental engineering. Building on our strong foundation, I'm excited about the vision for CEE and Mines moving forward, and I look forward to working collectively with faculty within CEE and beyond to achieve this vision."
A full professor and associate department head since 2018, Munakata Marr holds a PhD and MS in civil engineering from Stanford and a bachelor's degree in chemical engineering from Caltech. She specializes in water reclamation and resource recovery, primarily by using microorganisms in engineered systems.
She currently serves on the board of the Association of Environmental Engineering and Science Professors (AEESP) and is a past chair of the Environmental Engineering Division of the American Society for Engineering Education (ASEE). She won the AEESP Distinguished Service Award in 2020 and was the Alfred E. Jenni Faculty Fellow at Mines in 2015. In 2007-08, she served as a Fulbright Senior Scholar in Bangkok, Thailand.
Under her leadership, the Civil and Environmental Engineering Department will continue its work toward becoming a global go-to institution for research and education in smart, sustainable urban infrastructure, Munakata Marr said. In the future, that could include expanding the civil engineering program beyond its current focus areas of geotechnical and structural engineering to areas such as traffic engineering, construction engineering and management, systems dynamics and integration, and data science.
"Trends that are clearly impacting the practice of civil engineering now and into the foreseeable future include alternative energy, autonomous vehicles, climate change, smart cities, high-tech construction/advanced materials, and policy and funding," Munakata Marr said. "CEE can build on its historical strengths to embrace these trends in tackling civil and environmental engineering and science challenges.
"The academic landscape is constantly changing, and there's always room for improvement, so we cannot be content with the progress we've made—continued change is required to stay competitive and to continue to evolve into a stronger, more resilient and inclusive academic institution."