John G. Speer honored with IFHTSE Medal
International award recognizes distinguished achievements in heat treatment and surface engineering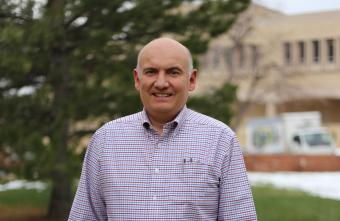 John G. Speer, American Bureau of Shipping Endowed Chair for Metallurgical and Materials Engineering at Colorado School of Mines, has been awarded the​​ International Federation for Heat Treatment and Surface Engineering (IFHTSE) Medal.
The medal is awarded by IFHTSE from time to time for internationally recognized distinguished achievements in heat treatment and surface engineering.
Speer was honored for "his life-time achievement in physical metallurgy, development and heat treatment of advanced steel concepts from theory to practical application, with particular focus on his leading role in the development of the Quenching and Partitioning Process."
Director of the Advanced Steel Processing and Products Research Center, Speer joined the faculty at Mines in 1997 after 14 years of research and research management in the steel industry. He holds a PhD from Oxford University, U.K., and a BS from Lehigh University.
Speer has been the recipient of multiple awards and recognitions for his contributions to and leadership in the steel industry. In 2019, he was elected to the National Academy of Engineering, among the highest professional distinctions granted to engineers. In 2017, he was awarded one of the world's top prizes in metallurgy and materials, the Institute of Materials, Minerals and Mining's Bessemer Gold Medal.
A distinguished member of the Associate for Iron & Steel Technology (AIST) and a Fellow of ASM International, Speer is also a past president of the American Institute of Mining, Metallurgical and Petroleum Engineers (AIME).