Colorado School of Mines teams up with Western Colorado Community College to train next generation of UAS pilots for mineral industry
Recent technology developments now allow use of unmanned systems in land surveying, hyperspectral remote sensing and airborne geophysical surveying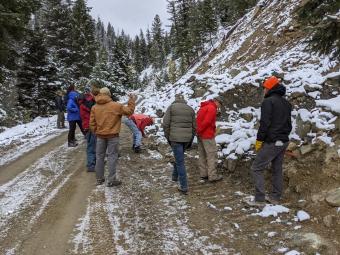 Researchers within the Center for Advanced Subsurface Earth Resource Models (CASERM) at Colorado School of Mines have teamed up with Western Colorado Community College (WCCC) to train the next generation of pilots of unmanned aircraft systems for the minerals industry.
Recent technology developments now allow the use of these unmanned systems in mineral exploration, including land surveying, hyperspectral remote sensing and airborne geophysical surveying. Unmanned aircraft systems are also increasingly used in the monitoring of pit walls and underground workings. The newly formed partnership will address critical workforce development needs in the minerals industry by providing advanced research and technology skills to WCCC students, including those from traditionally underrepresented groups as well as veterans of the U.S. Armed Forces.
CASERM is a collaborative research venture between Mines and Virginia Tech that is supported by a consortium of mining companies, companies providing services to the mining sector, and federal agencies aiming to transform the way geoscience data is acquired and used across the mining value chain. CASERM forms part of the I/UCRC program of the National Science Foundation. NSF is supporting this new partnership between CASERM and WCCC through its Skills Training in Advanced Research & Technology (START) funding opportunity.
"This grant by the National Science Foundation provides our researchers at Mines and Virginia Tech with the unique opportunity to engage with a 2-year community college and to embed a diverse group of students into our research program," said Thomas Monecke, director of CASERM and professor of geology at Mines. "There is a huge demand for skilled UAS pilots in the minerals industry and this partnership will provide outstanding experiential learning opportunities for WCCC students."
"We are excited to team up with CASERM and to have our students assist in use-inspired research at Mines and Virginia Tech that will advance the green energy transition," added Brigitte Sundermann, Vice President of Community College Affairs at WCCC.
Over the next months, the CASERM research team and WCCC students will design and plan a hyperspectral survey in Idaho covering an area that hosts a major cobalt resource. The hyperspectral sensing will allow the research team to identify mineralogical gradients around this important critical element deposit that is highly sought after for battery production.
An initial field visit to Idaho by the CASERM team was conducted in late 2021, providing critical insights into the local geology allowing for detailed mission planning. The researchers were accompanied by experts from the Idaho Geological Survey and local exploration and mining companies. Over winter and spring, WCCC students will train on operation of the UAS at their home campus in Grand Junction so they can fly the mission as soon as the snow has melted.