Colorado School of Mines recognized with R1 research university classification 
Only 146 universities out of nearly 4,000 nationwide receive the "Very High Research Activity" Carnegie designation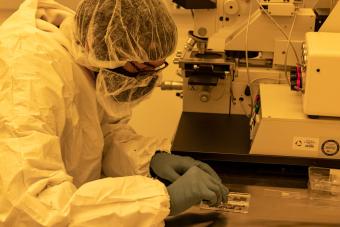 Summary:  
Mines is now one of just 146 R1 institutions in the U.S.  
Research funding has grown 45 percent at the university since 2016 
Mines receives a far larger share of research funding from industry than most other R1 universities, at roughly 20 percent 
Mines: "may be the best public research university in the country for its inclusive culture of excellence in research and innovation." 
Colorado School of Mines has joined the top tier of research universities in the United States as recognized by the Carnegie Classification of Institutions of Higher Education. 
In the latest Carnegie data, released earlier this month, Mines was elevated to the Research 1 (R1) classification, the highest and most prestigious designation granted to U.S. research universities. 
Only 146 colleges and universities – out of nearly 4,000 public and private institutions of higher education nationwide – were classified as R1 "Very High Research Activity" universities. Just 15, including Mines, newly earned the designation for 2021.  
"Colorado School of Mines' elevation to R1 status is something that we are incredibly proud of," said Mines President Paul C. Johnson. "It is a significant milestone in our evolution, and it reflects the innovative ideas and efforts of our world-class research faculty, staff, and students and the importance of their work to the future of industry, our state, and the world. R1 status is a recognition we had aimed to achieve by our 150th anniversary in 2024, building on our global network of partnerships with industry, national labs and universities, our history of use-inspired research, and the relevance of Mines' unique expertise to the future of energy, water, infrastructure, computing, health and space travel."
Mines' road to R1 
Since July 2016, Mines' federal, state and private research funding has grown 45 percent. In fiscal year 2021, that funding reached an all-time high of $88 million and is on track to exceed $100 million this fiscal year.
Unlike many other R1 universities, though, Mines does not have a medical school. And with fewer than 9,000 students, the public STEM-focused university is much smaller in size than many others earning R1 designation.  
A significant portion of Mines' federal research funding comes from the U.S. Department of Energy and the National Science Foundation. Mines also receives a far larger share of research funding from industry than most other R1 universities, at roughly 20 percent.  
"The national data has caught up with the reality that Mines is a highly active research institution," said Walter G. Copan, vice president for research and technology transfer at Mines. "For an institution of our size, we have an incredibly productive research enterprise. I often say we may be the best public research university in the country for our inclusive culture of excellence in research and innovation. Mines research cuts across a broad spectrum of fields that will define the future of technology, business and the environment."  
That includes research in areas of critical importance to the future of the U.S. economy, whether that's the mineral foundations of the energy transition, quantum engineering, semiconductors, machine learning, artificial intelligence, robotics or advanced manufacturing. Among the major research initiatives currently underway at Mines: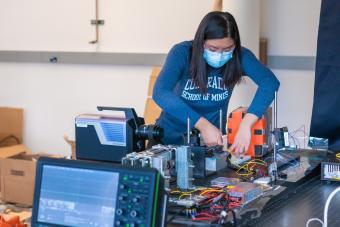 Research improves classroom experience 
Achieving R1 classification two years before Mines' 150th anniversary is a result of the commitment among faculty to contribute at the cutting edge of their fields, to their students' learning and to the needs of industry and society through their research efforts, administrators say.  
"In addition to fueling innovation at the highest levels, research is a cornerstone of the transformative education we provide at Mines, and the R1 designation only reinforces the excellence of our programs, especially at the graduate level," Mines Provost Richard C. Holz said. "It's not just our graduate students who benefit from the high volume of research activity occurring on campus. Mines students at all levels have the opportunity to work side by side with world-class researchers in the lab and that cutting-edge research informs the lessons that our faculty impart in the classroom. I am thrilled to have the hard work and dedication of our Mines faculty recognized by the Carnegie Foundation." 
For more about research at Mines, go to research.mines.edu.