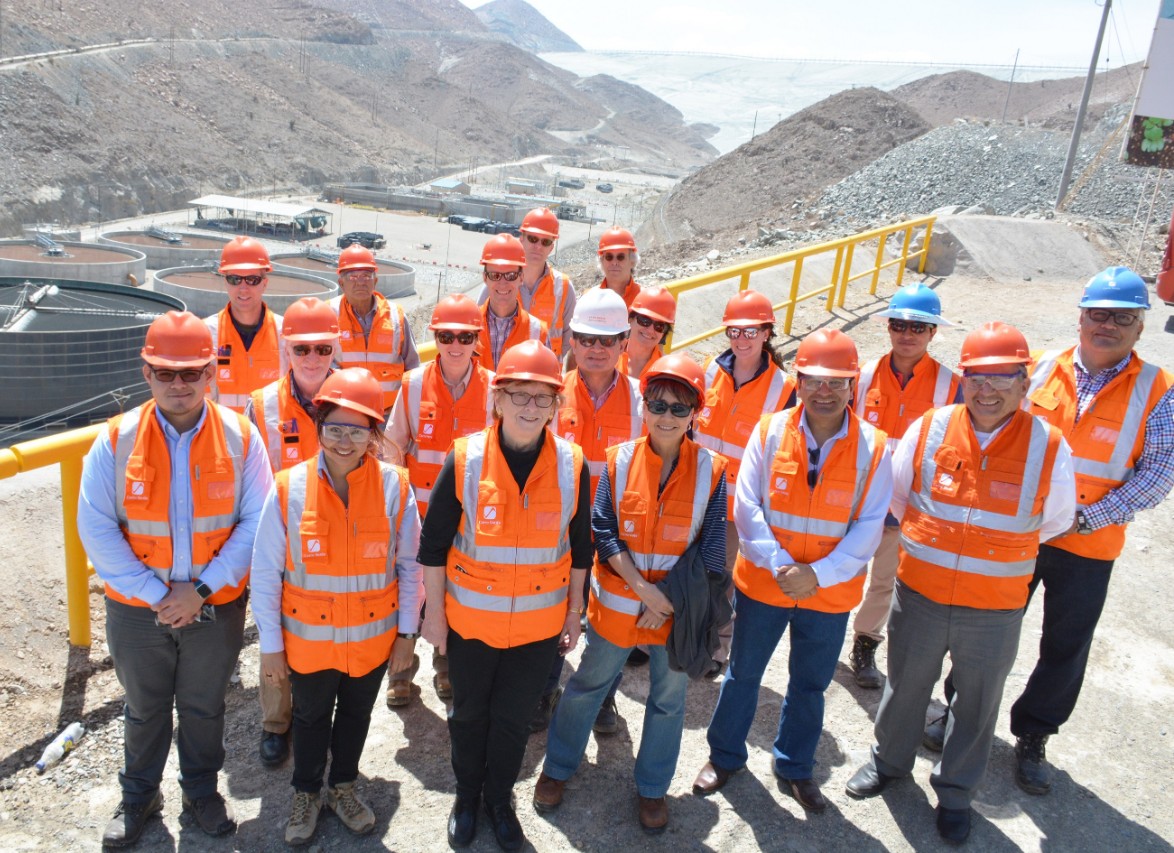 Colorado School of Mines and Universidad Nacional de San Agustín (UNSA) in Arequipa, Peru, are joining forces to tackle one of the most important societal and environmental issues facing communities around the world: How to manage the mining of natural resources in a manner that is sustainable, supportive of local economies and minimizes environmental impacts.  
The partner universities have established a new Center for Mining Sustainability that will apply data-driven, interdisciplinary science, technology and innovation to help chart a new course toward a sustainable future, with the aim of becoming an international benchmark for research in sustainable mining. 
Mines President Paul C. Johnson, Vice President of Research and Technology Transfer Stefanie Tompkins and Mines faculty will travel to Arequipa for a ceremony with UNSA officials later this year to finalize the partnership.
"Colorado School of Mines has been a world leader in mining research and education since its founding nearly 150 years ago, and we're excited to partner with UNSA to solve key technical, environmental and societal problems related to the mining industry," Tompkins said. "Sustainable mining, particularly in artisanal and small-scale mining, is a topic to which Mines is already deeply committed, and we believe that our approach – which brings both social science and engineering – has the potential to create lasting solutions."
Research projects already underway are focused on protecting water resources, improving mine safety, reducing risk from geologic hazards and improving mining processes.
In Peru, artisanal and small-scale mining accounted for approximately 23 percent of the country's total gold production in 2018. A broad categorization of mining that ranges from subsistence miners with a shovel and gold pan to medium-size outfits equipped with basic machinery, artisanal mining suffers from dangerous conditions, high environmental impacts and limited resources. 
The solutions being developed by center researchers in Colorado and Arequipa, however, should have worldwide applications, said center director Paul Santi, professor of geology and geological engineering at Mines.
"Really what we want to do is to make Mines and UNSA the place where the world looks to solve problems related to small-scale mining," Santi said. "In many cases, they are the same problems we have from abandoned and legacy mines here in Colorado – the environmental impact of today's artisanal and small-scale mining in Peru is similar to impacts from historic mines in the Rocky Mountains."
"UNSA's funding for this project comes from the Mining Royalty fund (Canon Minero), which receives a percentage of taxes paid by the local mining companies. This makes the project even more attractive, as it is part of the sustainability ecosystem of the mining industry," Santi said.
Mines faculty members in the departments of Chemistry, Civil and Environmental Engineering, Computer Science, Geology and Geological Engineering, Geophysics, Mining Engineering and Mechanical Engineering will contribute to the center, along with faculty from the UNSA School of Mining Engineering, Geology and Geophysics and School of Processing Engineering.
For more information about the Center for Mining Sustainability, go to miningsustainability.mines.edu.
About UNSA
Universidad Nacional de San Agustín de Arequipa was founded in 1828 as a public university in Arequipa, Peru. Its mission is to train high-quality professionals to be competitive, capable of being agents of change and development in society, and excellent researchers capable of solving the problems that impact the environment of the region and Peru. For more information, go to unsa.edu.pe.
About Mines
Colorado School of Mines is a public university focused on science and engineering, dedicated to educating and inspiring students, advancing knowledge and innovating to address the great challenges society faces today—particularly those related to earth, energy and the environment. Founded in 1874 with specialties in mining and metallurgy, Mines' scope and mission have expanded to meet the needs of industry and society, producing distinctive graduates and revolutionary innovations, and becoming a world leader in advancing sustainable use of the Earth's resources. For more information, visit mines.edu.