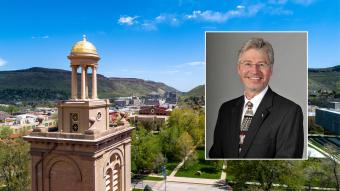 The former Under Secretary for Standards and Technology at the U.S. Department of Commerce and 16th Director of the National Institute of Standards and Technology (NIST) will join Colorado School of Mines this month as Vice President for Research and Technology Transfer.
Dr. Walter Copan, a distinguished leader with wide-ranging private and public sector experience spanning large corporations, startups, government agencies and nonprofits, will oversee all research and tech transfer activities at Mines and serve as the public face of the university's diverse research portfolio. In his previous role, Copan served as the principal U.S. presidential adviser on standards policy and technology, and provided high-level oversight and strategic leadership for NIST, a world-leading science and technology institute.
Copan will officially begin his new role at Mines on July 6. He succeeds Stefanie Tompkins, who departed the university earlier this year to become director of the U.S. Defense Advanced Research Projects Agency (DARPA).
"Colorado School of Mines is excited to welcome Walter Copan as our next vice president for research and technology transfer," said Mines President Paul C. Johnson. "Given his unique and diverse leadership experience in a wide span of research, development and tech transfer roles, Dr. Copan is ideally suited to help us continue to expand the reach and impact of our rapidly growing research enterprise. We work on big problems that are important to society's prosperity. Today, our faculty and students are partnering with industry and government labs to address challenges in energy, water, infrastructure, health, security, manufacturing and even space travel. They are also launching and supporting new start-up companies. Dr. Copan will be supporting and promoting their efforts, growing and strengthening our external partnerships and ensuring that we remain at the frontiers of the important science and engineering challenges of the future."
"Colorado School of Mines has an outstanding history of excellence in science and engineering, going back to the university's founding in 1874," Copan said. "I have come to deeply appreciate this top-ranked public research university over the years, including the collaborations to which I contributed directly between Mines and the National Renewable Energy Laboratory during the time of my service there. I am thrilled to take on this role to build upon the university's strong base of research and commitment to technology transfer, and toward its future impacts for Colorado and the nation."
A physical chemist by training, Copan began his career in R&D, business leadership and biotech ventures at The Lubrizol Corporation. Over the years, he has held a variety of roles in the private and public sectors, including the U.S. Department of Energy National Renewable Energy Laboratory (NREL) in Golden, where he served from 2003 to 2005 as principal licensing executive for technology transfer, focused on increasing NREL's effectiveness in developing and commercializing clean energy technologies. Copan then served as executive vice president and chief technology officer at Clean Diesel Technologies, Inc., helping to lead the company's transformation from research focus to a successful commercial enterprise. He returned to the public sector in 2010, when he was named managing director for technology commercialization and partnerships at the DOE's Brookhaven National Laboratory.
In October 2017, Copan was unanimously confirmed by the U.S. Senate as the Under Secretary of Commerce for Standards and Technology and Director of NIST. At NIST, he spearheaded streamlining and modernization of U.S. policies and practices for innovation and technology transfer arising from federally funded research. Since January 2021, Copan has served as Senior Advisor at the Center for Strategic and International Studies, co-founding the Renewing American Innovation project to advance U.S. innovation, standards and intellectual property policy.            
Copan holds a PhD in physical chemistry and a B.S./B.A. dual degree in chemistry and music, all from Case Western Reserve University. He was recognized by the university as Distinguished Alumnus of the Year in 2008. He is a Fellow of the National Academy of Inventors and was named the 2020 Laboratory Director of the Year by the Federal Laboratory Consortium. AUTM, a leading association in technology transfer, recognized Copan with its 2021 Bayh-Dole Award for his contributions to innovation and technology transfer.
"I am looking forward to contributing to the strategic growth of research and technology transfer impacts at Mines, inspiring and nurturing a dynamic and inclusive culture of innovation that builds upon the great strengths of the university," Copan said. "Together with the outstanding leadership team, faculty and staff of the university, we will continue to build momentum to expand the university's reach, partnerships and innovation impacts in the U.S. and internationally."