Colorado School of Mines, American Gem Trade Association unveil strategic relationship
In a multiyear project, Mines researchers will examine supply chain for at least 10 colored gemstones — sapphire, ruby, emerald, tanzanite and more
Colorado School of Mines and the American Gem Trade Association (AGTA) unveiled today a long-term strategic relationship with an unparalleled multiyear research project that examines colored gemstone supply chains in Kenya, Tanzania, Madagascar, Nigeria and Sri Lanka.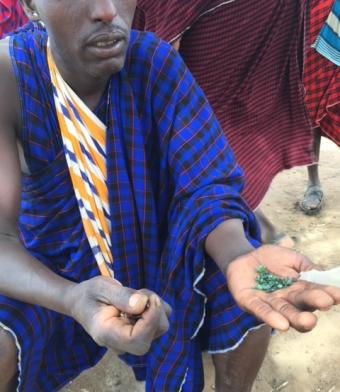 The goal is to identify best practices specific to the colored stone industry and improve transparency and traceability, ethics, environmental sustainability, and human rights within it. The name of the project is the "Transparent and Traceable Gemstone Supply Chains Initiative."
"AGTA and Mines recognize that guidelines developed for responsible sourcing of diamonds and precious metals do not fit the colored gemstone supply chain," says John W. Ford Sr., CEO of AGTA. "Both AGTA and Mines share the common goal of improving the transparency and traceability within the international mining community and desire to identify and cement best practices at sites worldwide. AGTA plans to expand the project in future years to include South American and Asian supply chains."
The research project kicks off immediately and includes a comprehensive multiyear plan. Mines' Nicole Smith, assistant professor of mining engineering, and PhD student Jenna White will lead the effort. Dr. Smith is a cultural anthropologist who has conducted research on Tanzanite traders in Tanzania and gold supply chains in Peru. Jenna White is a seasoned researcher with 16 years of experience in corporate social responsibility and international development, with a focus on environmental and human rights. She is also working to complete her Graduate Gemologist diploma.
Research preparation will take place through March 2023, followed by site visits to Kenya, Tanzania, Madagascar, Nigeria, and Sri Lanka through November 2023. Different types of mining and sizes of operations will be examined as well as different environmental and social contexts. In each location, data on the top colored gemstone export will be analyzed — a minimum of 10 different colored stones will be scrutinized. Finally, analysis of findings and report writing will culminate in the spring of 2024.
"Consumers want transparency more and more when it comes to the sourcing of all sorts of goods, and colored gemstones are no different," Dr. Smith said. "We're excited to partner with AGTA and have this unique opportunity to examine some of the best practices along colored gemstone supply chains and how consumers can be sure the stones they're purchasing are produced in an ethical way and that they're not being 'greenwashed.' "
This project will be driven by academically rigorous research methods and draw on Mines' mineral supply chain-specific expertise. Founded in 1874, with specialties in mining and metallurgy, Mines continues to be a leader in the earth sciences, with extensive experience in mineral supply chains, including National Science Foundation-funded projects on gold supply chains in Latin America and Africa. This insight will marry well with AGTA leadership's own rich perspectives. The resulting collaboration will produce a thorough examination of the colored stone supply chain and how it can move forward with respect and proper stewardship to the people in source countries and the environments that are affected.
"We want AGTA members to have clear best practices for a transparent and traceable colored stone supply chain," says Kimberly Collins, AGTA board president and owner of Kimberly Collins Colored Gems. "AGTA is a pioneer in this space, and this project with Mines furthers our commitment to responsible sourcing with our international partners."
The American Gem Trade Association (AGTA) is a not‐for‐profit association serving the colored gemstone and cultured Pearl industry since 1981. Headquartered in Dallas, members are trade professionals based in the U.S. and Canada, and AGTA is widely regarded as "The Authority in Color." AGTA's activities include organizing educational programs, trade shows, and printed materials and maintaining strong relationships with government officials and other jewelry trade groups. AGTA is committed to upholding the highest ethical standards and practices.