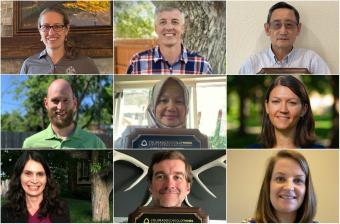 Colorado School of Mines is proud to announce the winners of the 2019-2020 Faculty Awards for teaching and research excellence.
The annual awards celebration, where the Office of Academic Affairs typically unveils the honors, was not held this year due to COVID-19 pandemic restrictions.
Faculty Excellence Award
The Faculty Excellence Award, which recognizes a tenured or tenure-track faculty member for significant and meritorious achievement in teaching and scholarship, goes to Melissa Krebs, associate professor of chemical and biological engineering.
"Dr. Krebs is a star teacher and researcher here at Mines," Provost Richard C. Holz said. "Since joining the Mines faculty in 2012, she has played an instrumental role in the development of innovative curriculum, including the creation of the incredibly popular 'Intro to Biomedical Engineering' course and the redesign of 'Heat and Mass Transfer,' a centerpiece of Chemical and Biological Engineering's curriculum revision."
"Beyond the classroom, Krebs' research group, focused on the use and development of biomaterials for tissue engineering and drug delivery, has been equally outstanding and paved the way for Mines to obtain significant instrumentation for our campus and clinical partners," Holz said. "She is incredibly well respected by her colleagues, and the opportunity to work in her lab is a highly sought-after opportunity among students – in her eight years at Mines, she has mentored more than 40 undergraduate and high school students, as well as four PhD and four M.S. students."     
Mines Teaching Awards
The Tenure/Tenure-Track Teaching Award was given to Kevin Cash, assistant professor of chemical and biological engineering.
"Dr. Cash is an invaluable member of the Chemical and Biological Engineering Department," Holz said. "His commitment to teaching is apparent in all the classes he leads but especially through his work with CBE's core graduate course, 'Introduction to Research and Teaching,' and the core undergraduate senior design course – the latter of which is rarely taught by tenure or tenure-track faculty at peer institutions nationwide."
"Dr. Cash has taken on both courses with enthusiasm, overhauling the instruction portion of senior design to better match the needs of industry and improve the focus on process safety, and with 'Intro to Research and Teaching,' achieving a 100 percent success rate among graduate students in passing the department's research-based qualifying exam," Holz said. "And it's not just his fellow faculty members who appreciate his work in the classroom – Dr. Cash is one of Mines' top performers in student-evaluated instructor effectiveness in any department."
The Non-Tenure-Track Faculty Teaching Award was given to Alex Flournoy, teaching professor of physics.
"Dr. Flournoy may be OK flying under the radar, but we are honored to recognize his unwavering commitment to teaching excellence and the impact he has on students of all majors at Mines," Holz said. "He is highly in tune with how to help students master even the most difficult concepts in a large-lecture format and, according to his peers, nearly every improvement made to Physics 100 in recent years can be attributed to his leadership and mentorship."
"More broadly, Dr. Flournoy is committed to fostering supportive, inclusive communities where all students can learn," Holz said. "That commitment can be seen through his office "help hours" and Physics X lectures, as well as his frequent collaboration with students. That includes his work to create the Equality Through Awareness club to raise awareness about issues faced by underrepresented groups in STEM and his leadership in making Failure Fridays – a video series where Mines where faculty humanize themselves by sharing their own stories of failure – a reality."
Alfred E. Jenni Faculty Fellowship
Mirna Mattjik, teaching associate professor of engineering, design and society, has received the Alfred E. Jenni Faculty Fellowship, which is awarded to a faculty member for institution-wide contributions in teaching effectiveness and educational scholarship during the one-year award period.
"As one of her colleagues wrote in nominating her, Professor Mattjik has been a standard-bearer in educating the whole student since her hire as a full-time faculty member in 2015," Holz said. "We are excited to see how her work can grow to impact the entire institution with the support of the Jenni Faculty Fellowship."
"Reflective learning is already widely used in humanities, arts, social sciences and design, and with Professor Mattjik's leadership, we will be exploring ways to bring this pedagogical approach into engineering education," Holz said. "As Mines approaches its 150th anniversary, we know it's more important than ever to be a producer of differentiated, highly desired STEM-educated leaders. This project, which includes a trial phase and classroom-based research in design courses, such as Cornerstone Design and McBride Honors, is very much in line with achieving that goal."
Board of Trustees Outstanding Faculty Award
The Board of Trustees Award, which recognizes a faculty member who has made a significant positive impact on student learning, with special emphasis on teaching outside the classroom, goes to C. Josh Ramey, teaching associate professor of chemical and biological engineering.
Excellence in Research Awards
The Excellence in Research Awards recognize Mines faculty members who are active in research for their outstanding accomplishments while at Mines.
The Senior Faculty Award, which honors faculty members with 10 or more years of self-directed research, was given to Yu-Shu Wu, professor of petroleum engineering, whose area of focus is reservoir modeling technology and advanced simulation tools for subsurface energy and natural resources.
The Junior Faculty Award, for faculty members with less than 10 years of self-directed research, was awarded to Nanette Boyle, assistant professor of chemical and biological engineering, and Karin Leiderman Gregg, associate professor of applied mathematics and statistics.
Boyle's research focuses on the use of synthetic biology, systems biology and metabolic engineering to design photosynthetic organisms capable of sustainably producing fuels, feedstocks and fine chemicals. 
Leiderman's focus is the mathematical modeling of biochemical systems, including blood coagulation and platelet aggregation under flow.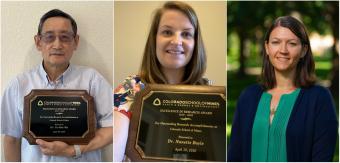 W.M. Keck Mentorship Awards
The W.M. Keck Chair for Professional Development Education, Faculty Senate and Office of Academic Affairs seek to support and encourage the development and adoption of novel and effective mentorship strategies across campus. Three Mentorship Awards have been established to recognize extraordinary mentorship.
Associate Dean of Students Colin Terry was recognized for his commitment to student empowerment and mentorship of undergraduate students.
In the Applied Mathematics and Statistics Department, Associate Professors Cecilia Diniz Behn and Karin Leiderman Gregg were honored for mentoring graduate students through the creation of the Mathematical Biology Research Group (MBRG), which provides a safe space in which students learn about new ideas, talk about mathematics research and hone their professional communication skills. 
Kim Williams, professor of chemistry, was recognized for her extraordinary efforts to initiate the formal mentoring process for faculty and staff on campus, including playing a leadership role on the Faculty Senate Subcommittee on Faculty Mentorship and Transparency in Promotion and Tenure Processes.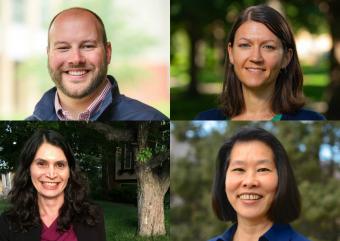 Class of 2020 Outstanding Faculty Awards
Applied Mathematics and Statistics: William C. Navidi
Chemical and Biological Engineering: Michael Barankin
Chemistry: Shubham Vyas
Civil Engineering: Jeffrey Holley
Computer Science: Christopher Painter-Wakefield
Economics: Andrew Pederson
Electrical Engineering: Chris Coulston
Engineering, Design and Society: Mirna Mattjik
Engineering Physics: Kristine Callan
Environmental Engineering: John Spear
Geological Engineering: Bruce Trudgill
Geophysical Engineering: Jeff Shragge
Humanities, Arts and Social Sciences: Shannon Mancus
Mechanical Engineering: Derrick Rodriguez
Metallurgical and Materials Engineering: Kester Clarke
Mining Engineering: Kadri Dagdelen
Petroleum Engineering: Jennifer Miskimins