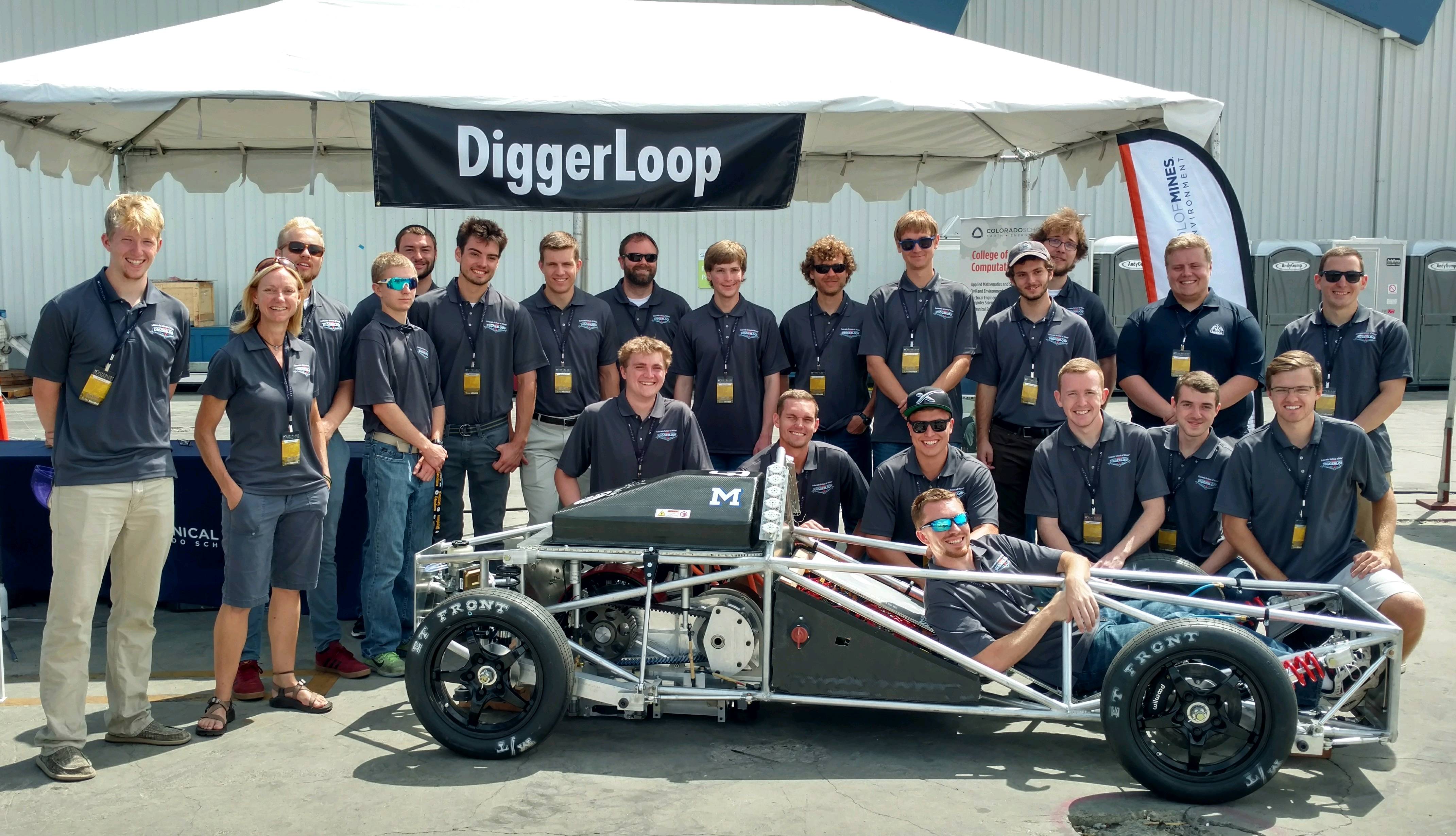 Team DiggerLoop's drag racer-inspired Hyperloop pod may not have hit the test track but it still garnered plenty of attention at the SpaceX student competition last month. 
After a rigorous safety evaluation from SpaceX employees, only three out of the 24 student teams in the finals were allowed to compete on the Hyperloop test track outside Los Angeles Aug. 25-27. The team from Colorado School of Mines wasn't one of them, but the students said they're still grateful for the fantastic opportunity.
"While we were there, we got to talk to a lot of other teams, some that did run and a lot of others that didn't. We shared ideas, explained why we made the choices that we did, which routes we took and why, possible future changes we would make seeing what everyone saw while we were there," said team leader Austin Genger, an electrical engineering major. "It was a giant consortium of what this future technology would look like, with teams from around the world."
The winning pod, from the Technical University of Munich in Germany, hit a top speed of more than 200 miles per hour. DiggerLoop had hoped to reach 280 mph.
"Our pod drew a lot of attention," Genger said. "We did many things very differently than what a lot of the other teams did." 
Those differences included both mechanical and aesthetic decisions. For one, many of the other pods embraced a more futuristic aesthetic—sleek carbon-fiber shells and lots of curves. DiggerLoop looked more like a drag racer in comparison.
"Other pods went for a more elaborate approach, incorporating maglev technology," Genger said. "We went for a simpler, more straightforward kind of approach."
But one of the biggest differences was that DiggerLoop was one of only a handful of pods with its own propulsion system. The electric motor—from the same family that GM has used on its Chevy Tahoe SUVs—was powered by 300 drone batteries. 
Other teams relied on the "pusher cart" provided by SpaceX to gain speed, their cold-gas thrusters providing just an extra boost, chief engineer Karl Grueschow said. 
"For next year everyone will have to have their own propulsion system," he said. 
During the safety evaluation, SpaceX engineers were most concerned about DiggerLoop's battery box—the team had tested the individual sub-packs of batteries but not the full load. They'll be ready next time, Grueschow said. 
"We have a really competitive design. It's just a matter of getting them to let us go on the track," Grueschow said. "Moving forward, our emphasis is going to have to be on proving that we aren't going to explode, come off the track, flip over. We have to prove everything is going to work the way we expect it to."
Once that's accomplished, it's up to the next group of DiggerLoop engineers to optimize the design. They'll also be seeking more sponsors, in hopes of being able to use more expensive but lighter composite materials to help shave off weight. 
"We've got a pretty good foundation," said Grueschow, who graduated in May with a degree in mechanical engineering. "Now they're going to make the thing fly. 
Teaching Professor Kristy Csavina, the team's faculty advisor and assistant head of the Mechanical Engineering Department, said the next DiggerLoop team definitely has a jump start as it prepares for the next Hyperloop competition in 2018.
"This year's team should be proud of what they accomplished with their pod and the hype generated about their design at the SpaceX competition," Csavina said. "The overall project and the test week in California provided a tremendous learning experience and firsthand account of multisystem projects with firm deadlines. The team now better appreciates the need and benefits of testing, not only to validate a design but also to demonstrate safety across systems. The summer team accomplished so much in fabricating the pod in such a short amount of time and providing an exceptional design with great potential."
CONTACT
Emilie Rusch, Public Information Specialist, Communications and Marketing | 303-273-3361 | erusch@mines.edu
Mark Ramirez, Managing Editor, Communications and Marketing | 303-273-3088 | ramirez@mines.edu