A Colorado School of Mines team of 14 undergraduate students has advanced to the final competition weekend in SpaceX's Hyperloop Pod Competition II in California later this summer.
Team DiggerLoop is made up of Mines seniors who are taking part in the competition for their CECS Senior Design Capstone project. They advanced after their design was reviewed for the final time by SpaceX engineers on March 21. This was one of several design reviews since November 2016.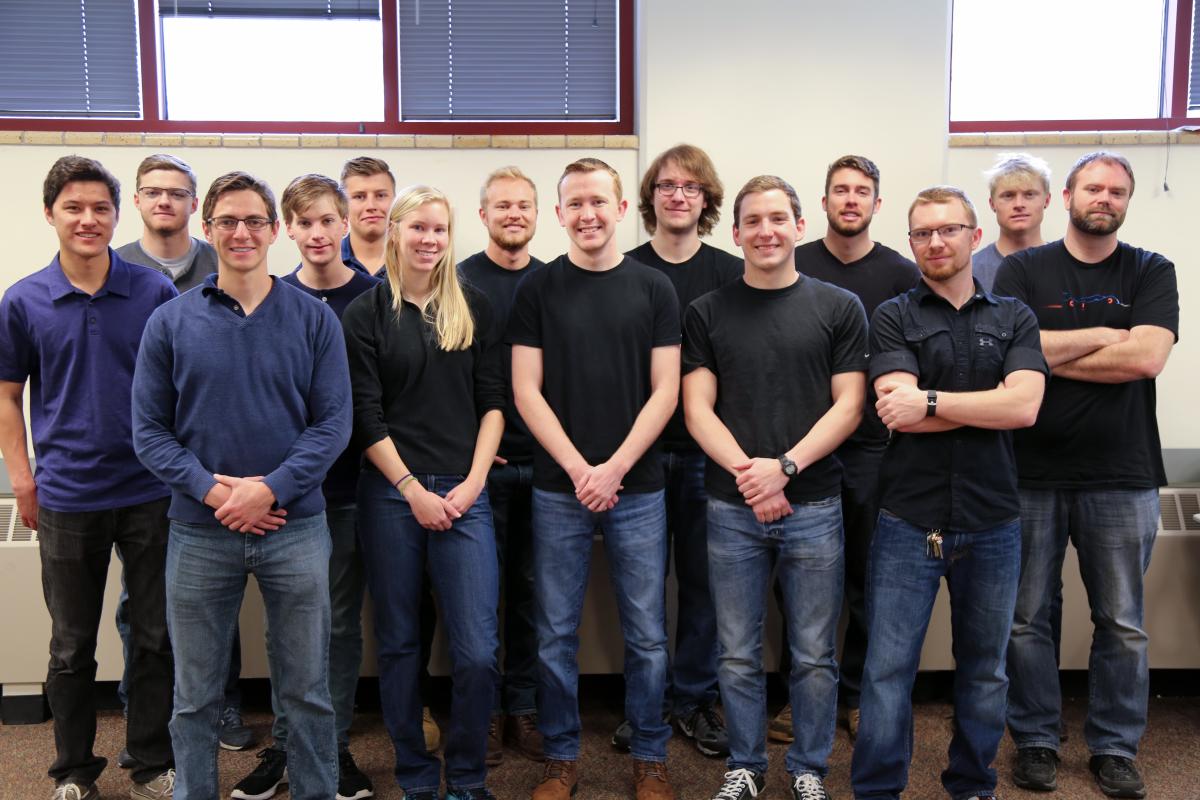 Team DiggerLoop advanced to the final competition weekend for SpaceX's Hyperloop Pod Competition II.
The competition asked student teams from around the world to design a pod that can travel on SpaceX's high-speed transportation Hyperloop track. Over 1,000 teams began their work last fall, and only 24 of them, including the Mines team, advanced to the final competition weekend.
Hyperloop is a high-speed transportation system currently being developed by SpaceX that would move both passengers and freight in pod-like vehicles through a reduced-pressure tube, allowing them to move faster than airplanes.
"We are definitely underdogs," said Austin Genger, the Mines team's project manager and lead electrical engineer. "We are facing off against teams from Princeton and Purdue, and even a few international teams. Some teams are three times the size of ours and have nearly unlimited funding for their designs. We had to think and design uniquely to make sure we stood out from the rest, and make our presence known."
The Mines team, which focused on workability, designed their pod using parts that can be bought off the shelf—not only to reduce costs, but also to increase confidence in performance.  
"We're not reinventing the wheel," said Ryan France, Team Diggerloop's chief draftsman. "We're using a hybrid motor from a Chevy Tahoe, and we've limited the custom parts we'll need for the frame, some electrical systems and motor stability additions."
France noted that other teams' designs include all-custom parts, setting up a "David vs. Goliath" encounter in August when the teams test their designs at SpaceX headquarters in Hawthorne, California.
At the August competition weekend, the team will sent their life-size pod, along with a test dummy as a passenger, down a 1,400-meter tube of Hyperloop track. The competition is "judged solely on one criteria: maximum speed with successful deceleration (i.e., without crashing)," according to the competition rules.
"Conservatively, our pod will reach 235 miles per hour, but we're hoping for 260 mph" said, Karl Grueschow, the team's chief engineer. The pod, starting from a standstill, has to reach a top speed and come to a complete stop within the 1,400-meter test track in order to be considered successful, all without crashing or breaking apart.
With the design phase of the competition over, the team must now begin construction of the pod, which could take over three months and cost up to $70,000. The team is currently fundraising for the build.
"Team DiggerLoop's goal is to not only have the top-performing pod design in this competition, but also to help develop a transportation system that could potentially change the future," said Will Marquis, a team project manager. "However, none of this will possible without financial support, and we are currently soliciting sponsorships and donations."
Team members include mechanical engineering students James Bloomfield, Jacob Suter, Ryan France, Braiden Olds, Will Marquis, Christian Grundfor, Zach Melphy, Michael Lanahan, Jackie Knott, Karl Grueschow and Vincent Koch and electrical engineering students Jeremy Che, Tim Walker and Austin Genger.
Mechanical Engineering Teaching Professor Kristy Csavina serves as faculty advisor. Serving as technical advisors are Teaching Associate Professor Jered Dean, Assistant Professor Andrew Petruska and Teaching Associate Professor Robert Amaro in the Mechanical Engineering Department and Electrical Engineering Teaching Professor Jeff Schowalter.
"This team has worked extremely hard and effectively to iterate their design over the past six months, and they are one of the most professional student teams I have ever worked with," Csavina said. "They are proactive, self-driven and they work well together as a team. I think all of those attributes, along with being incredibly smart, have helped them advance this far. Each student brings a different and important skill set to the team, and they have a unique synergy that has driven them forward since the start of this project."
Contact:
Megan Hanson, Communications Manager, Academic Affairs | 303-384-2358 | 
mhanson@mines.edu
Mark Ramirez, Managing Editor, Communications and Marketing | 303-273-3088 | 
ramirez@mines.edu