Six international teams descend on Mines campus for Over the Dusty Moon Challenge
Colorado School of Mines, Lockheed Martin to host final round of student design challenge June 2-3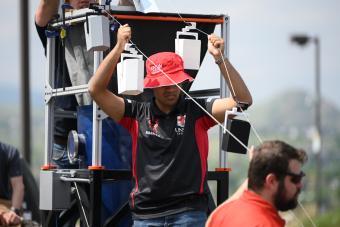 A new frontier in lunar technology will be on display June 2-3 in a parking lot on the edge of Colorado's Rocky Mountains.
Lockheed Martin and Colorado School of Mines will host the final round of the Over the Dusty Moon Challenge, with six university teams from around the world facing off on the Mines campus in Golden, Colorado, to demonstrate the most effective system for conveying lunar regolith, or soil, both horizontally and vertically.
"Every square inch of the Moon's surface is covered in loose soil, or regolith, and we need to learn how to work with this material as humans move toward a sustainable presence on the lunar surface," said Angel Abbud-Madrid, director of the Center for Spaces Resources and the Space Resources graduate program at Mines. "Just as important as moving soil on Earth, transporting regolith will be a key and essential technology, enabling the use of the abundant lunar soil for resource processing, construction, and even manufacturing."
Over the two-day final competition, each of the six teams will demonstrate their prototype systems for the judging panel, which includes:
Rob Mueller, Senior Technologist, Kennedy Space Center, NASA
Lisa D. May, Chief Technologist, Advanced Systems, Lockheed Martin Space
Eamon Carrig, Director of Off-Planet Systems, ICON
Ryan Dubisher, Spacecraft Technology Development Lab, Lockheed Martin Space
Joseph Minafra, Lead for Innovation and Technical Partnerships, Ames Research Center, NASA
The international squad of competitors hail from Germany, Canada, Australia, Poland, Texas and Colorado. Judging will focus on the amount of regolith transported, system mass, energy consumed, dust tolerance and generation, autonomy and overall performance.
"The type of conveyance systems design the students in this challenge are developing are vital to helping us advance lunar exploration technology," said Kirk Shireman, Vice President, Lunar Exploration Campaign, Lockheed Martin. "Expanding and growing experiential educational opportunities like this will ensure we are tapping into some of the sharpest minds of the next generation of engineers as we work toward a sustainable presence on the Moon."
Photos and b-roll of the competition will be available upon request Thursday and Friday.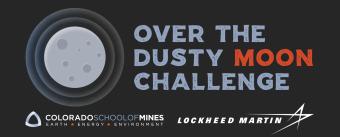 ###

MEDIA CONTACTS
Emilie Rusch, Director of Communications, Colorado School of Mines, erusch@mines.edu, 720-432-5203
Gary Napier, Communications, Lockheed Martin, gary.p.napier@lmco.com, 720-224-7955