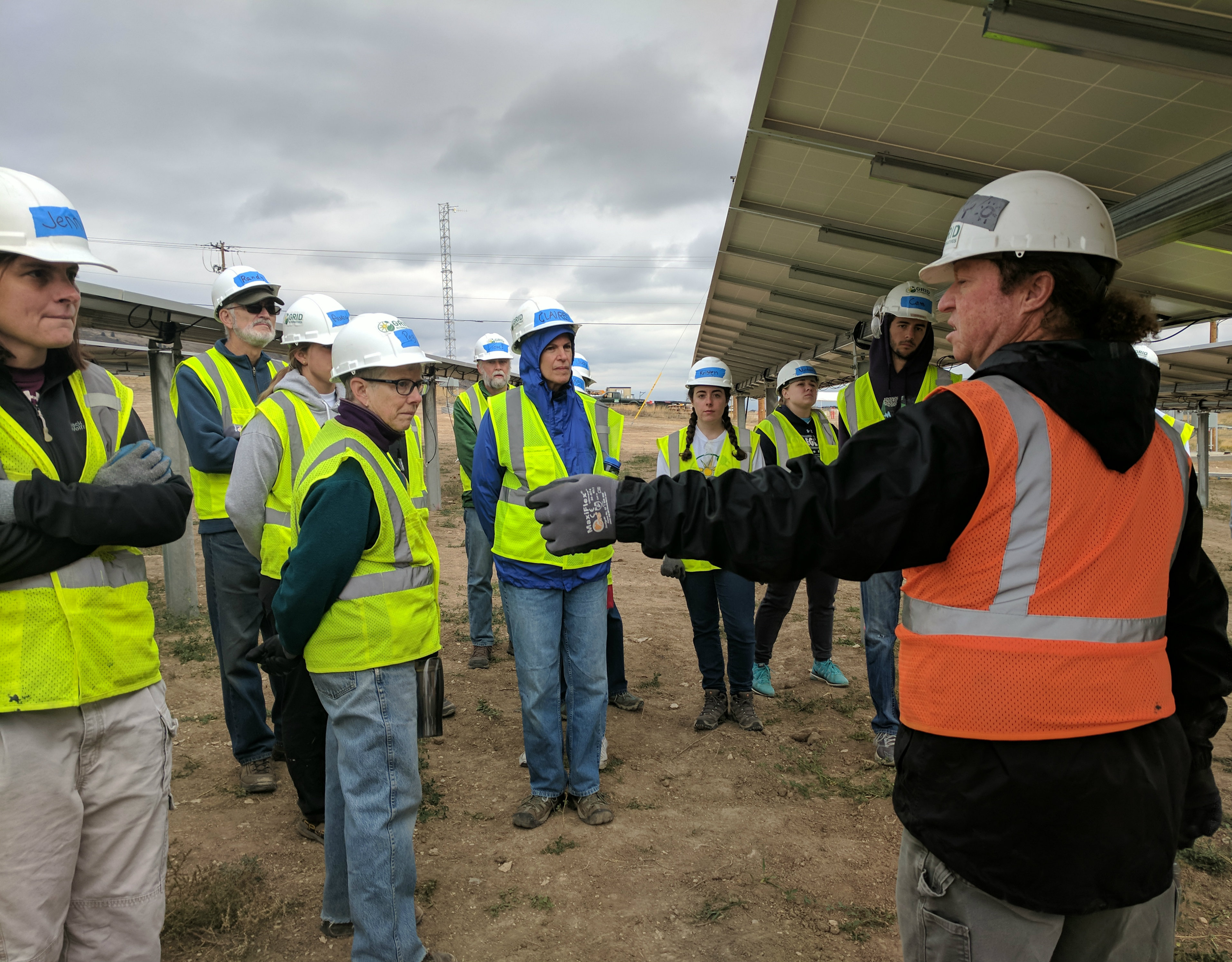 Colorado School of Mines students are helping make solar power more accessible to low-income Coloradans.
The Mines Energy Club recently volunteered with GRID Alternatives to help build two community solar arrays, one in Fort Collins and the other near Denver International Airport. The nation's largest nonprofit solar installer, GRID works across the U.S. to increase access to renewable energy technology and job training among underserved communities.
"GRID Alternatives is a really cool organization," said Evan Wong, a senior majoring in mechanical engineering and vice president of Mines Energy. "It's facilitating learning and spreading the word about solar while also helping low-income communities." 
Colorado is among the leaders nationwide in the installation of community solar – also called solar gardens, the arrays allow multiple customers to buy into the power produced and receive a credit on their electric bills.
The new array in Fort Collins, the 2-megawatt Coyote Ridge Solar Farm, is the largest ever built by GRID – by a factor of 10. Volunteers installed the entire system in a matter of weeks between August and September, and it's already generating power for the Poudre Valley Rural Electric Association.  
Mines volunteers drove up to Fort Collins to lend a hand on two of the Coyote Ridge build days. Tim Ohno, associate professor of physics and co-director of the Energy Minor Program, was among a group tasked with installing the arms that hold the solar panels and then attaching the solar panels themselves.
 
"It really took two people to lift the panels," Ohno said. "The ones used for utilities are larger than the ones installed on rooftops in most cases."
Closer to home, Mines students spent a day in October working on another 2-megawatt array, near Denver International Airport for the Denver Housing Authority. 
DHA will be the first housing authority in the country to develop, own and operate its own solar garden. Throughout construction, GRID will also provide training, certification and employment in the solar industry for affordable housing residents.
Wong, who is minoring in renewable energy, said volunteering with GRID Alternatives was a great opportunity to get hands-on experience with photovoltaics, to supplement the academic instruction he's received on campus. 
"Although there's a bunch of advanced physics in the crystalline structure, installing solar panels isn't really that hard," Wong said. "The entire process probably took around five minutes at most for each solar panel."
Ohno hopes the GRID Alternatives experience will also help motivate students and faculty to push for more solar on the Mines campus. 
A solar garden could be an efficient and cost-effective option at Mines, too, he said.
"Right now we're really trying to accommodate the growth in students, but if groups are interested, I can imagine this might be a push in the not-too-distant future," Ohno said.
Golden voters recently approved a ballot initiative to allow the city to move forward with a project to build a community solar garden at the Rooney Road Sports Complex. Almost half of all U.S. households and businesses are unable to host rooftop solar systems because they rent their spaces or lack suitable roof space, according to a 2015 National Renewable Energy Laboratory report. 
"It's a direction that's probably going to become more and more common," Ohno said. "When you install panels on someone's roof, whatever direction the home's roof faces, that's where it's installed and that's not always optimal. If you build a solar garden, the cost of solar even without subsidies is very comparable to traditional coal and natural gas power plants."
Photo credit: Courtesy of GRID Alternatives
CONTACT
Emilie Rusch, Public Information Specialist, Communications and Marketing | 303-273-3361 | erusch@mines.edu
Mark Ramirez, Managing Editor, Communications and Marketing | 303-273-3088 | ramirez@mines.edu