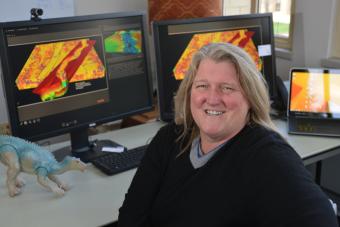 Lesli J. Wood, Weimer Distinguished Chair and Professor of Geology and Geological Engineering at Colorado School of Mines, was recently recognized with two major awards in her field.
The Society for Sedimentary Geology (SEPM) elected Wood as its 2022 honorary member, a recognition that acknowledges excellence in professional achievements and extraordinary service to the professional society. No more than one member can be elected each year, with the total number of living honorary members limited to 1 percent of the society's total membership.
Wood was also recently named the 2022 winner of the Robert R. Berg Outstanding Research Award from the American Association of Petroleum Geologists. The association's fifth-highest award, the honor is given in recognition of a singular achievement in petroleum geoscience research.
A member of the Mines faculty since 2015, Wood holds a PhD in Earth Resources from Colorado State University, a MS in geology from the University of Arkansas and a B.S. in geology from Arkansas Tech University.