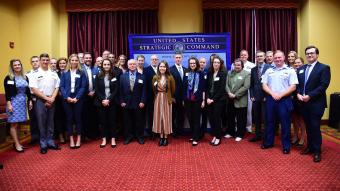 Amy Schweikert, research assistant professor of mechanical engineering at Colorado School of Mines, was invited to moderate a panel at the 2019 U.S. Strategic Command Deterrence Symposium.
About 700 people were in attendance at the event, including flag-level leadership from the U.S. Air Force, Navy and Army; U.S. congressmen; international dignitaries, ambassadors to the United States, and Defense Department personnel from Denmark, U.K., Poland, Japan, Korea, Australia and others. 
 
Schweikert led a panel on academic research in nuclear deterrence and assurance. Panelists were Alexa Wehsener of University of California, Berkeley; Julia Ciocca of University of Pennsylvania; Isobel Tidbury of University of Nottingham (U.K.); and Eric Winter of Coastal Carolina University. Topics included complex systems, space warfare, strategic thinking and cybersecurity as well as surveillance, intelligence and reconnaissance in the context of nuclear deterrence. 
 
Schweikert, who holds an MS and PhD in civil engineering from the University of Colorado Boulder, works with Mechanical Engineering Associate Professor Mark Deinert on the intersection of complexity, policy and infrastructure resilience.