Research effort driving advances to combat traumatic brain injuries
Mines' Leslie Lamberson is leading PANTHER's materials characterization work

A mechanical engineering professor at Colorado School of Mines is part of a team of researchers working on better ways to detect concussions and more protective equipment to prevent them.
Called PANTHER, the group of scientists from academia, industry and federal was recently awarded a new $10 million grant from the U.S. Office of Naval Research backing their research.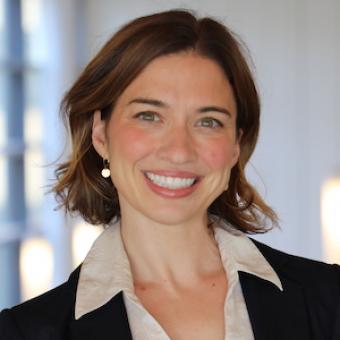 Leslie Lamberson, associate professor of mechanical engineering at Mines, leads the interdisciplinary research hub's materials characterization work – an important piece of the puzzle of mitigating traumatic brain injuries.
"In our lab, we're working on understanding and characterizing the ability of current and next-generation liner materials for military helmets to absorb energy to protect the brain against traumatic brain injury. So, for soldiers in the field TBI could be from something simple like falling when running or hitting their head when inside a vehicle on bumpy terrain, up to blasts by an IED," Lamberson said. "How the materials inside the helmet behave depends on not only how they are loaded, but how fast - and so their performance can change dramatically under various extreme conditions seen on the battlefield."
Lamberson and Research Assistant Professor Stylianos Koumlis are collaborating on the helmet liner work with industry partner Team Wendy, also a member of PANTHER. The company develops protective equipment and provides the liner materials from its Advanced Combat Helmet to Lamberson's research group.
Lamberson's XSTRM Lab (eXtreme STRuctures and Materials Lab) specifically studies how materials fail under extreme conditions. In this case, that means using ultra high-speed imaging along with full-field metrology techniques to capture the helmet liner material deformation behavior in-situ – or in real-time – during various impact loads with sub-microsecond resolution.
"Along with our collaborators, we're measuring the liners' protective performance and then using that information to figure out how to minimize loading transferred from the helmet to the skull and then the brain that could cause injury," Lamberson said.
The new funding will allow PANTHER researchers to expand the scope of their work to include blast-induced concussions, a significant concern to the military.
Partners in PANTHER include researchers from University of Wisconsin-Madison, Colorado School of Mines, Brown University, Robert Morris University, the University of Texas, Arlington, the University of Southern California, Iowa State University, Johns Hopkins University, and Sandia National Laboratories. Industry partners include Trek Bicycle, Milwaukee Tool and Team Wendy.
The team is also pursuing a new approach to aid in the development of reliable blood or saliva tests for diagnosing concussions. During a concussion, brain cells release proteins as a stress response. By studying injured brain tissue, the researchers will work to identify specific proteins or other biomarkers that may be promising targets for future diagnostic tests.
Moreover, the new funding will allow PANTHER to rapidly translate its scientific discoveries into products and public health information that will help reduce traumatic brain injuries, said University of Wisconsin-Madison mechanical engineer Christian Franck, who leads the overall PANTHER effort.
In his own research, Franck is working to quantify the exact amount of mechanical stress and strain that it takes to damage brain cells enough to cause a concussion. He and his colleagues will use that cellular injury data to develop high-fidelity computational models of the human head and brain.
"Although this research effort is motivated by the U.S. Department of Defense's goal of reducing traumatic brain injuries suffered by members of the military, the basic scientific advances that we make will also benefit the public broadly," Franck said. "With PANTHER, we ultimately want to solve the brain injury problem in society as a whole."