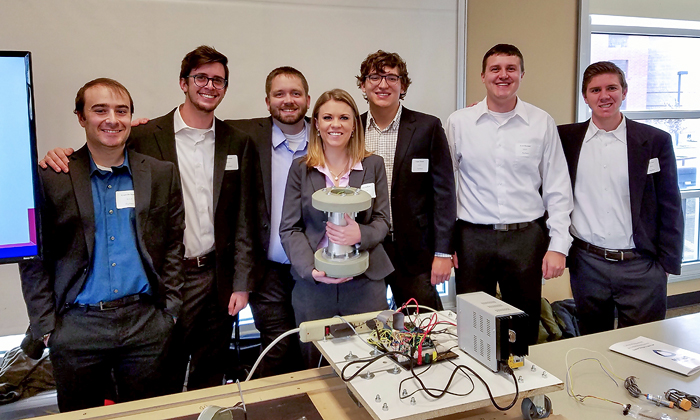 Pig Patrol, a team of seven mechanical engineering seniors at Colorado School of Mines, received first place in the College of Engineering and Computational Sciences Fall Senior Design Trade Fair on December 1, 2016. They designed an integrated cleaning and inspection pig (ICIP) that can collect data more frequently and affordably, without interrupting the pipeline flow.
"Pigging" is a common term in pipeline management, referring to devices known as "pigs" that perform maintenance operations. The name originally referred to the squealing noise the early devices made while traveling in the pipe.
"Basically we need to find defects along the inside of oil pipelines so that pipes don't rupture," explained team member Kyle Crews. "We designed a robot that can travel along the inside of the pipeline, find the defects and report them back using a unique sensor that could have a big impact on this market. Our design allows for more frequent testing in a cost-effective way."
The team is working to possibly take to market the sensor technology that they adapted in the design of their pig. The team's design acquires lower quality data but in a higher quantity that would allow companies to run the ICIP every time the pipeline is cleaned, rather than every couple of years.
"We have a really close-knit team," said Crews, "and want to take this forward after graduation, even though several of us are moving out of state. We've had a lot of great feedback from people in the industry. We also want to thank our client, Craig Champlin, and our faculty advisor, Jered Dean, who really guided us along over the past two semesters."
The +4 Designs team received second place for their design of an adjustable down-hole probe-centralizer to be used in geophysical testing by their client, Mount Sopris Instruments. The third place team, Dynamic Hydration Systems, created a hydration system intended for endurance auto racing drivers. They built and tested a system that delivers hydration to the driver without detracting from the driver's focus through a refillable and detachable component.
Other projects included two for the National Renewable Energy Laboratory, one developing an online method for measuring the residence time distribution for a biofuel pre-treatment reactor and the other an instrumentation system to determine the physical level and density of process material inside a thermochemical hydrolysis reactor.
Several teams presented projects aimed at improving Mines' campus, such as an electrical system aimed at allowing the Starzer Welcome Center to function for 48 hours during an interruption of service and another that looked at better stormwater management through the use of green infrastructure.
For the second time, a Mines senior design team constructed a hands-on educational device for the
Boulder Journey School
. The human-powered water system is designed to introduce children to cause-and-effect relationships via the use of gears, pulleys and other mechanical devices.
Mines Formula Society of Automotive Engineers also presented an aerodynamic design for the car they will use in their 2017 competition in Nebraska. Students from Mines Human Centered Design Studio presented early prototypes of their adaptive equipment designs, even though they will be competing in the spring trade fair. 
More information about all the teams can be found on the Capstone site. Photos from the event are available on Flickr and via the slideshow below.
Trade Fair Winners
1st Place – Pig Patrol – Integrated Cleaning and Inspection Pipeline Pigging Robot
Students: Logan Nichols, Evan Marshall, Grant DeShazer, Evan Thomas, Matthew Atherton, Victoria Steffens, Kyle Crews
Client: Craig Champlin
Adivsor: Jered Dean
Consultant: John Steele
 
2nd Place – +4 Designs – Adjustable Downhole Centralizer

Students: Steven Blickley, Nick Markel, Jenevieve Parker, Steven Staszak
Clients: Mount Sopris Instruments: Curtis Baker, Jody DuMond
Advisor: Buddy Haun
Consultants: Jered Dean
3rd Place – Dynamic Hydration Systems - Endurance Auto Racing Hydration System Challenge
Students: Will Bennett, Matt Craig, Jaime DuBois, Kaan Korkmaz, Allen Jackson, Ry Walter
Client: Scott Durham
Advisor: Robin Steele
Consultants: Robert Amaro
Broader Impacts Essay Winners
1st Place - "Are Electric Vehicles More Brown than Green?" by Kelly Dempsey
2nd Place – "Learning to Drive" by Ben Koehler
3rd Place – "The Broader Impacts of Design Choices in the Airline Industry" by Connor Groeneweg
CONTACT:
Deirdre Keating, Communications Manager, College of Engineering & Computational Sciences | 303-384-2358 | dkeating@mines.edu
Ashley Spurgeon, Editorial Assistant, Mines magazine | 303-273-3959 | aspurgeon@mines.edu