Payne Institute, KAPSARC host roundtable on energy markets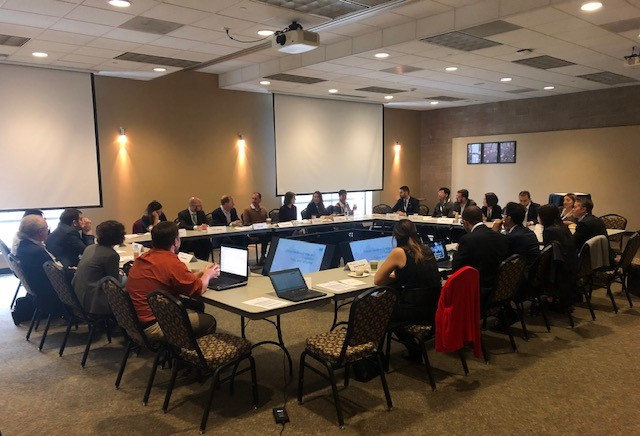 The Payne Institute for Public Policy at Colorado School of Mines in collaboration with the King Abdullah Petroleum Studies and Research Center (KAPSARC) recently brought together global experts to discuss analytical approaches to blending political science with the study of energy markets. The roundtable discussions took place April 9 and sought to develop new insights and identify future research directions related to energy markets in the areas of governance and trade, market transparency, security, geopolitics and economics.
The one-day meeting welcomed international experts from think tanks, NGOs, academia and industry for discussions that organizers hope will lead toward a future interdisciplinary and shared research agenda. 
"The Mines campus in Golden, Colorado, served as a backdrop for an engaged and lively discussion by a group of experts from around the world," said Brian Efird, program director at KAPSARC. "We believe the work we completed today will serve as a foundation for future research collaboration among the participants in the workshop."
By the end of the meeting, attendees identified next steps for new research and action items connected to the intersection between political science and energy markets, 
"We are thrilled to begin what I hope will be a longstanding and productive partnership with KAPSARC," said Morgan Bazilian, director of the Payne Institute. "The topics covered at today's event, including international relations, the energy transition, and energy markets, should serve as a strong foundation for further collaborative research."
CONTACT
Gregory Clough, Strategy and Operations Manager, Payne Institute for Public Policy | 303-384-2218 | gclough@mines.edu
Emilie Rusch, Public Information Specialist, Communications and Marketing | 303-273-3361 | erusch@mines.edu