Mines unveils two space-aiming undergraduate minors, including the solar system's first in space mining
Three new minors in aerospace engineering, space mining, and teaching will be offered in Fall 2021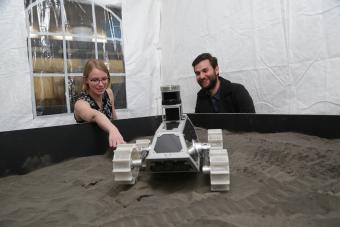 Three new minors will give undergraduate students more ways to tailor their Mines experience to serve their interests and career ambitions. Aerospace engineering, space mining and teaching minors will be offered in Fall 2021 after being approved by the Mines Board of Trustees in February 2021. 
Aerospace Engineering  
As the aerospace industry continues to grow in Colorado, it now represents five of the top 10 employers for mechanical engineers in the state. While a full degree in aerospace engineering is not a requirement for these jobs – as shown by the number of Mines graduates currently working in the industry – a dedicated minor will help make Mines students even more competitive in the field. The Aerospace Engineering minor is designed to support students interested in aerospace engineering careers who are majoring in mechanical engineering, electrical engineering, metallurgical and materials engineering, physics and other areas. The program will be housed under the Department of Mechanical Engineering. 
 
"The minor is in response to our constituents' needs, both industry and current students," said Kristine Csavina, assistant department head for undergraduate studies and teaching professor in mechanical engineering. "In discussions with managers and alumni in the aerospace industry, they reiterated their desire to hire our Mines engineers, but they feel new employees would have a better start in their companies with a background of fundamental knowledge in aerospace engineering."  
The new Aerospace Engineering minor will capitalize on three existing mechanical engineering courses important to aerospace fundamentals and add three additional courses in space-related topics and systems engineering.  
"Industry desires fundamental aerospace engineering training in such topics as astrodynamics, propulsion, the space environment, mission design and analysis, structures, materials, and space systems engineering," Csavina said. "We are excited to expand our offering of courses in aerospace engineering." 
 
Space Mining 
Mines is the only academic institution in the U.S. to currently offer an advanced degree in Space Resources. This new minor will also allow undergraduate students at Mines to get a flavor of what is to come in the future of both mining and space exploration. This developing field attracts interest from a wide range of students and industries including many non-traditional mining disciplines. The Space Mining minor will provide Mines undergraduates with a strong foundation of knowledge to make an immediate impact as they enter pertinent industries. The minor is believed to be the first in the world – and solar system – with this specific focus. 
"Space exploration has long been an aspiration of various scientists and engineers, and success in deep space missions depends on our ability to utilize the resources in outer space," said Jamal Rostami, associate professor in the Department of Mining Engineering, where the program will be housed.  
 
As space exploration continues, there will be a need for mining engineers who will actively participate in those missions, and can contribute to providing raw materials for a variety of activities, including onsite manufacturing, supplies of consumables, and fuels for space craft.  
"Design of mining operations in space requires some out-of-the-box thinking and emphasis on automation, safety and remote operation," Rostami said. "The Space Mining minor can facilitate this transition between the current state-of-the-art mining techniques and the operation of mines in the future both on earth and in space." 
 
Teaching 
The Teach@Mines program has been offering teacher prep courses for six years to Mines students interested in pursuing careers in science, mathematics and computer science education. The new Teaching minor will offer even stronger recognition of a student's preparation for a teaching career and include a substantial K-12 classroom component.  
"Mines is working hard to help solve the nationwide STEM teacher shortage by providing pathways for Mines graduates to enter the classroom where they can prepare and inspire the next generation to pursue careers in science, technology, engineering and mathematics," said Wendy Adams, Director of Teach@MInes. "The new Teaching Minor is the next step in this effort providing Mines students an opportunity to explore and learn more about the teaching profession."