Mines researchers on the hunt for "ghost particles" with quantum sensors
In findings published last week, an interdisciplinary team led by Mines and Lawrence Livermore demonstrated the power of using nuclear decay in high-rate quantum sensors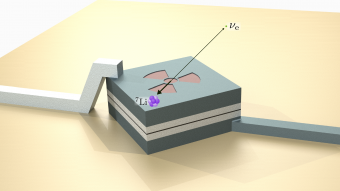 So-called "sterile neutrinos" are theoretically predicted new particles that offer what could be the brightest possibility in the quest for understanding the dark matter in our universe.
Unlike the known "active" neutrinos in the Standard Model of particle physics, these sterile neutrinos do not interact with normal matter as they move through space, thus making them very difficult to detect.
A team of interdisciplinary researchers, led by Colorado School of Mines and Lawrence Livermore National Laboratory, has demonstrated the power of using nuclear decay in high-rate quantum sensors in the search for sterile neutrinos. Their findings, the first measurements of their kind, were published last week in the journal Physical Review Letters.
"With just a single sensor counting at a low rate for a month, we have already been able to search for a new type of subatomic particle in a mass range that has largely been unexplored in the lab," said Kyle G. Leach, assistant professor of physics at Colorado School of Mines and spokesperson for the BeEST experimental program.
The interdisciplinary research team behind BeEST (pronounced "beast"), or 'Beryllium Electron-capture with Superconducting Tunnel junctions,' is utilizing complete momentum reconstruction of nuclear electron-capture decay in radioactive beryllium-7 atoms to search for these elusive new particles.
With a measurement time of just 28 days using a single sensor, the data presented in the new paper excludes the existence of sterile neutrinos in the mass range of 100 to 850 keV down to a 0.01 percent level of mixing with the active neutrinos – better than all previous decay experiments in this range.
"This is really just the beginning for us and, although challenging, has been very enjoyable for everyone on our fantastic team," Leach said. "Our highly interdisciplinary collaboration of physicists and engineers from across the country and overseas are already working to scale up the experiment to large arrays of sensors with new superconducting materials for a significant increase in our ability to search for new physics."
To read the full paper, "Limits on the Existence of sub-MeV Sterile Neutrinos from the Decay of 7Be in Superconducting Quantum Sensors," go to https://journals.aps.org/prl/abstract/10.1103/PhysRevLett.126.021803.