Mines professor receives pre-seed funding to develop hydrogel bandage technology
Melissa Krebs will use the funding from Innosphere Ventures to accelerate GelSana Therapeutics' product development plan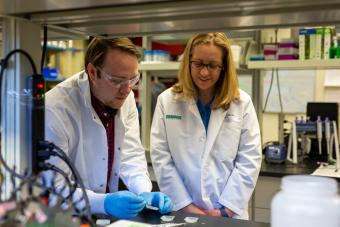 A biotech startup company founded by a Mines professor has received pre-seed funding to help commercialize hydrogel bandages capable of slowly releasing medication.
GelSana Therapeutics will use the funding from Innosphere Ventures to accelerate its product development plan, said founder Melissa Krebs, associate professor of chemical and biological engineering at Mines.
"As we showed in peer-reviewed findings in early 2020, hydrogel bandages could have huge implications for the treatment of diabetes worldwide – which cost $327 billion in 2017 in the U.S. alone," Krebs said. "We started this company with a focus on resolving diabetic foot ulcers, which pose serious health and financial burdens to those affected, but also believe the unique properties of our hydrogels may have broader applicability in wound healing."
Hydrogels are three-dimensional networks of hydrophilic polymer chains that can hold large amounts of water, a characteristic that makes them promising for wound care. They can help maintain a moist environment around the wound, allow oxygen permeation and be readily loaded with therapeutic molecules to promote healing and prevent bacterial infections.
However, due to the high water content of these materials, drugs loaded into hydrogels are often released very rapidly, instead of gradually over a long period of time.
In findings published in January 2020 in the journal Acta Biomaterialia, Krebs' research group showed that the polymerization of zwitterionic materials under freezing temperatures to form gels, or cryogels, remarkably improves the drug release profiles, with highly sustained release.
"I'm really excited to see where we can take this technology," Krebs said. "And with its alignment with our MINES@150 goals around entrepreneurship and innovation, it's great timing for providing a learning opportunity for our students."
The GelSana pre-seed funding is Innosphere's first investment in technology under development at Colorado School of Mines. Headquartered in Fort Collins with satellite offices in Denver and Boulder, the science and technology incubator supports highly motivated entrepreneurs working on innovations in health, energy and advanced materials, and enterprise software and hardware.
"Innosphere has a long-standing partnership with the Colorado School of Mines Office of Research and Technology Transfer and we're excited to contribute to the growth of Melissa Krebs' technology and company," said Mike Freeman, Innosphere Ventures CEO and general partner, in a press release. "Professor Krebs is an exceptional CEO and the kind of technical founder you want to invest in."