Mines partners with Hitachi High-Tech Canada to create world-class electron beam analytical facility
Field-emission scanning electron microscope was recently installed in Mineral and Materials Characterization Facility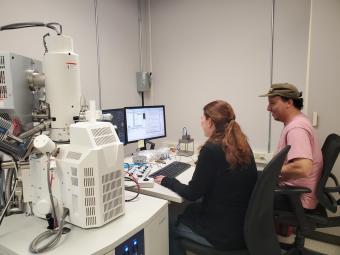 Colorado School of Mines is pleased to announce a partnership agreement with Hitachi High-Tech Canada, Inc. (HTC) that creates a new world-class electron beam analytical facility on the university's campus in Golden, Colorado. As part of the new research partnership, a SU5000 field-emission scanning electron microscope was recently installed in the Mineral and Materials Characterization Facility in Mines' Geology and Geological Engineering Department.
"HTC's choice of our research center as a partner is a testament to the caliber of our faculty and students we have," said Thomas Monecke, professor and director of the Center for Advanced Subsurface Earth Resource Models (CASERM) at Mines. "The characterization of earth materials by electron microscopy represents an important step in many areas of our quest to advance solutions for the mining sector and associated industries. The new instrument has particularly important applications in the research on critical minerals needed in the manufacturing of clean energy technologies."
CASERM is one of the world's largest research centers in the mining sector. It is a collaborative research venture between Mines and Virginia Tech that is supported by a consortium of mining companies, analytical instrumentation and software companies, and federal agencies aiming to transform the way geoscience data is used across the mining value chain. CASERM forms part of the I-UCRC program of the National Science Foundation.
The new research partnership with HTC will allow Mines to enhance and expand its role as an academic leader in the field of automated mineralogy, said Katharina Pfaff, associate research professor and director of the Mineral and Materials Characterization Facility. To perform automated mineralogical analysis, the new field-emission scanning electron microscope is equipped with the cutting-edge Advanced Mineral Identification and Characterization System (AMICS) software.
"The new scanning electron microscope is designed for automated mineralogical analysis allowing users to determine mineral and phase modal abundances and an abundance of mineralogical textural information in polished mounts, thin sections, and a variety of other solid samples," Pfaff said. "The system provides users from academia, industry, and federal agencies with the advantages of the latest technology in automated mineral and materials characterization and will form a cornerstone in our research focusing on predictive mineralogy."
Initial research using the new analytical capabilities will focus on the study of the distribution of sulfide minerals in ores and waste materials from various mine sites to improve the recovery of critical minerals during processing and to minimize the creation of acidic waters in mine tailings and from waste rocks. In addition to mineral research, the new scanning electron microscope will offer unparalleled opportunities for undergraduate and graduate student education.
"We are excited to collaborate with the CASERM research team and look forward to helping build a strong future in microscopy and automated mineralogy at Mines and Virginia Tech," said Chad Ostrander, president of Hitachi-High-Tech Canada.