Metallurgical and materials engineering PhD graduate wins Rath Award at Spring 2022 Graduate Commencement 
Colorado School of Mines awarded 49 doctorates, 302 master's degrees during May 12 ceremony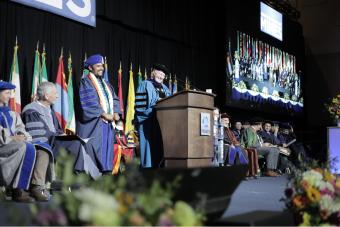 Diptak Bhattacharya, PhD in metallurgical and materials engineering, is the winner of the Spring 2022 Dr. Bhakta Rath and Sushama Rath Research Award. 
The honor, which recognizes the Colorado School of Mines doctoral graduate whose thesis demonstrates the greatest potential for societal impact, was presented during Spring 2022 Graduate Commencement on Thursday, May 12. During the in-person ceremony, Mines awarded a total of 49 doctorates and 302 master's degrees to May graduates. 
Mines will hold three more in-person commencement ceremonies on Friday, May 13 for undergraduate students. The ceremonies, split by academic department, will be at 9 a.m., 1 p.m. and 5 p.m. in Lockridge Arena. 
Bhattacharya's dissertation, "Influence of Selected Alloying Elements and Starting Microstructure on ZN-Assisted Liquid Metal Embrittlement Susceptibility of Advanced High Strength Steels," focused on a new family of automotive steels and the origins and mechanisms related to the cracking of spot welds – the greatest manufacturing challenge discovered with these new steels. 
Galvanized "third-generation" Advanced High Strength Sheet Steels offer a number of benefits to the automotive industry, including weight reduction, improved fuel efficiency and passenger safety, and reduced carbon emissions.  
"Diptak's work has helped to show the way for the steel industry to fine tune the design and manufacture of this vital class of cost competitive steels and for the automotive industry to successfully incorporate these into the vehicle architecture for the greater benefit of mankind," said PhD advisor John G. Speer, director of the Advanced Steel Processing & Products Research Center and professor of metallurgical and materials engineering. "The quality and depth of Diptak's work was exceptional. He was always willing to go the extra mile to learn a new technique or explore a new hypothesis to advance our understanding. He was also kind and enthusiastic, and generous with his time, so helped create a positive environment for other students to excel." 
Since defending his dissertation, Bhattacharya has joined the General Motors R&D facility in Michigan, where he is researching advanced alloy systems. 
ADDITIONAL GRADUATE AWARDS 
Chemical and Biological Engineering  
Outstanding Thesis Award: James Crawford 
Computer Science 
Outstanding Graduating Master's Student: Armando Ocampo and Morgan Cox 
Geophysics 
Mendenhall Prize for Outstanding Doctoral Students: Tugrul Konuk and Aleksei Titov 
Humanitarian Science and Engineering 
Outstanding Graduate Students: Breanna Moak and Arielle Rainey 
Mechanical Engineering 
Emeritus Faculty Exemplary Graduate Student: Rathana Preap 
Outstanding Mechanical Engineering Student Athlete: Lindsey Jin 
Petroleum Engineering 
Outstanding Doctoral Graduate: Ola Akrad 
Outstanding Master's Graduate: Similoluwa Oduwole 
For more information about Spring 2022 Commencement at Colorado School of Mines, go to commencement.mines.edu.