Colorado School of Mines to hold Spring 2022 Commencement on May 12-13
Jesus Salazar, chairman of Mines Board of Trustees and CEO of Prosono, to give undergraduate keynote address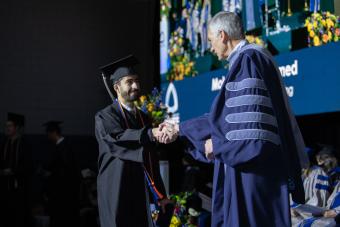 Colorado School of Mines will celebrate its Spring 2022 Commencement on May 12-13, with in-person ceremonies for undergraduates and graduates.
Graduate Commencement will kick off the two days of festivities at 3 p.m. Thursday, May 12 in Lockridge Arena. Three undergraduate ceremonies will follow on Friday, May 13, at 9 a.m., 1 p.m. and 5 p.m., in the same location.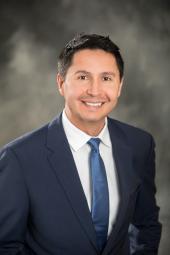 The keynote speaker at the undergraduate ceremonies will be Jesus Salazar '01 MS '02, chairman of the Mines Board of Trustees and co-founder and CEO of Prosono, a company whose mission is to accelerate the achievement of the World 2030 Sustainable Development Goals. 
A Colorado native and entrepreneur who loves bringing exceptional people together to do exceptional things, Salazar received his bachelor's degree in mathematics and computer science from Mines in 2001 and earned a master's degree in engineering and technology management in 2002. After spending 16 years leading and developing software for some of the largest companies in North America, including Microsoft, Amgen, Yamaha and others, Salazar shifted his career toward entrepreneurship. Prosono was awarded 2019 Startup of the Year through the Denver Metro Chamber of Commerce and was recently named one of the top 50 most civic-minded companies of Colorado.  
Tickets are required for the Graduate and Undergraduate Commencement ceremonies. The departments graduating students at each of the three undergraduate ceremonies are as follows:
9 a.m. Ceremony
Applied Mathematics & Statistics
Civil & Environmental Engineering
Economics & Business
Engineering, Design & Society
Geology & Geological Engineering
Geophysics
Petroleum Engineering
Mining Engineering
1 p.m. Ceremony
Chemical & Biological Engineering
Chemistry
Computer Science
Metallurgical & Materials Engineering
Physics
5 p.m. Ceremony
Electrical Engineering
Mechanical Engineering
A live webcast of all of the ceremonies will be available on the Mines YouTube channel at youtube.com/c/ColoSchoolofMines.
For more details about Spring 2022 Commencement, visit commencement.mines.edu.