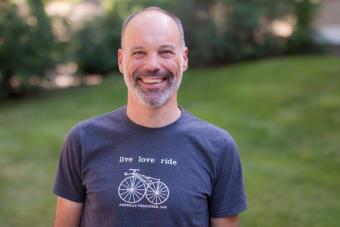 Reed Maxwell, Rowlinson Professor of Hydrology at Colorado School of Mines, has been elected as a fellow of the American Geophysical Union.
An honor given to no more than 0.1 percent of AGU's total global membership every year, AGU Fellowship recognizes AGU members who have made exceptional contributions to Earth and space sciences as valued by their peers and vetted by a committee of fellows.
Specifically, Maxwell was recognized for "outstanding contributions toward the advancement of integrated hydrological simulation across scales."
"Election as an AGU Fellow is one of the highest honors bestowed in the Earth and space science community, Dr. Maxwell has a remarkable record of research that transcends disciplinary boundaries. Using complex computational models, he and his research group address a range of water-related questions. Dr. Maxwell is very deserving of this accolade, and I am thrilled that he has been recognized for his achievements."
Wendy Bohrson, head of the Geology and Geological Engineering Department at Mines.
Maxwell is the third active Mines faculty member to earn the distinction. Tissa Illangasekare, AMAX Distinguished Chair of Environmental Sciences, was elected as part of the Class of 2005, and Roel Snieder, W.M. Keck Distinguished Professor of Professional Development Education, in 2000. 
Maxwell joined the Mines faculty in 2009 and conducts research focused on understanding connections within the hydrologic cycle and how they relate to water quantity and quality under anthropogenic stresses. He has authored more than 120 peer-reviewed journal articles and teaches classes on integrated hydrology, fluid mechanics and modeling terrestrial water flow. He has graduated 13 PhD students and 20 MS thesis students since coming to Mines.  
Maxwell will be honored at the American Geophysical Union Honors Ceremony in December in San Francisco.
Founded in 1919, the American Geophysical Union is a not-for-profit scientific society dedicated to advancing Earth and space science for the benefit of humanity with 60,000 members in 135 countries.