Individualized biomechanical assessments could help reduce injuries among U.S. service members
Mines' Anne Silverman is collaborating with U.S. Naval Health Research Center on the project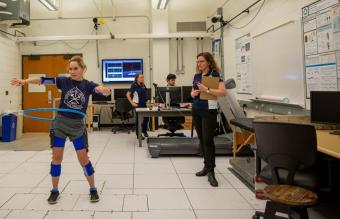 A Colorado School of Mines biomechanics researcher is collaborating with the U.S. Naval Health Research Center on work to better understand and reduce injury risk among U.S. service members.
Anne Silverman, Rowlinson associate professor of mechanical engineering, is leading modeling work for the three-year U.S. Department of Defense Military Operational Medicine Research Program (MOMRP) project. The goal of the project is to improve musculoskeletal model predictions to more accurately assess injury risk – on an individual level – related to walking with heavy backpack loads.
"Ruck marching is a biomechanically demanding activity commonly associated with injury occurrence in the military," Silverman said. "This project will be a great step in improving our understanding of injury risk at an individual level."
Walking with heavy backpack loads increases both muscle and joint contact forces, which can lead to overuse injury – one of the biggest sources of injury in the military. However, it remains unclear why certain individuals are more susceptible to injuries than others, and what preventative actions will be most effective to reduce injury risk.
The risk of musculoskeletal injuries may be mitigated with physical training and gear recommendations that are informed by an understanding of the relationship between muscle strength and injury risk factors, Silverman said.
"With this project, we're working to establish overall mechanistic relationships that describe how deficits in strength of specific muscles influence joint contact loads. Joint loads can vary widely from person to person and are important for understanding injury risk, but cannot be measured directly. Through modeling approaches, we can estimate these quantities non-invasively. By determining relationships between muscle weakness and injury risk factors like joint contact loads, we can guide specialized strength training programs that reduce an individual's injury risk," Silverman said.
Silverman's research team, including mechanical engineering PhD candidate Jordan Sturdy, has already developed a musculoskeletal model to simulate walking with backpack load carriage to investigate biomechanical injury mechanisms related to backpack design. The results were recently published in the journal Applied Ergonomics.
"This is a large component of our ongoing collaboration with the Warfighter Performance Department at Naval Health Research Center," Silverman said. "This new award will enable us to translate musculoskeletal modeling results to inform training plans and rigorously investigate the effects of muscle strength levels on injury risk."