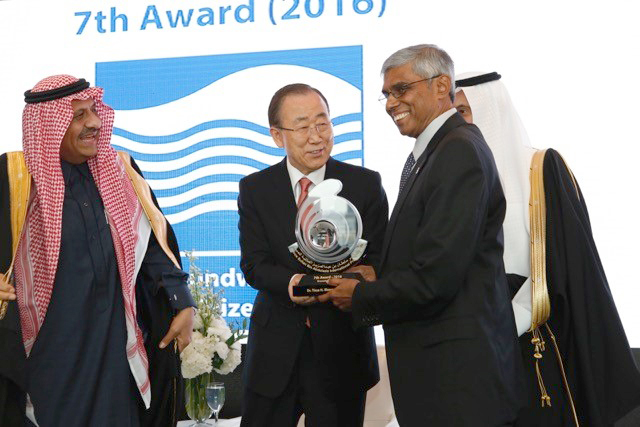 Professor Illangasekare (far right) receives the PSIPW Award from U.N. Secretary General Ban Ki-moon. Photo Credit: UN Photo/Eskinder Debebe
Congratulations to Tissa Illangasekare, distinguished chair and professor of civil and environmental engineering at Colorado School of Mines, who received the Groundwater Prize for the Prince Sultan Bin Abdulaziz International Prize for Water (PSIPW), one of the most prestigious awards for water research and the highest international honor in the field of groundwater.
Illangasekare received the award on Nov. 2, at the United Nations headquarters in New York, hosted by the U.N. Friends of Water and the U.N. Educational, Scientific and Cultural Organization (UNESCO).
Illangasekare was honored for his work to improve the fundamental understanding of fluid flow and chemical transport in porous media through innovative multi-scale experimentation and modeling. His work has led to the reliable prediction of the long-term fate of pollutants in groundwater systems. Most recently, Illangasekare has focused on problems in the development of technologies for secure storage of CO2 in deep geologic formations, which is expected to reduce atmospheric loading of greenhouse gases that contributes to global warming. 
Speaking at the U.N. ceremony, Illangasekare emphasized the importance of groundwater research and an interdisciplinary approach to solutions. "Groundwater is 30.1 percent of the freshwater in the world and is the most extracted natural resource," he said. "The groundwater problems of the coming decades are going to be driven by continually increasing demand, climate change, sea-level rise, chemical and natural pollutants, and issues of energy-water-food nexuses."
Illangasekare concluded his speech with thanks to his early mentors, research sponsors and family. He concluded by saying, "It is with excitement, profound appreciation and humility that I accept this award on behalf of my students, collaborators, research sponsors, and the AMAX endowment at Colorado School of Mines."
Illangasekare is the founding director of the Center for Experimental Study of Subsurface Environmental Processes (CESEP) and past recipient of numerous awards, including the Henry Darcy Medal from the European Geosciences Union. His research has led to use-management models for river basins in Colorado, methods to estimate floods in watersheds, dam safety analyses and environmental monitoring.
Established in 2002, PSIPW is a biannual international award that highlights innovation by scientists, inventors and organizations in five water-related fields that contribute to the sustainable availability of potable water and the alleviation of water scarcity throughout the world. The prize organization is headquartered at the Prince Sultan Research Center for Environment, Water and Desert at King Saud University in Riyadh, Saudi Arabia.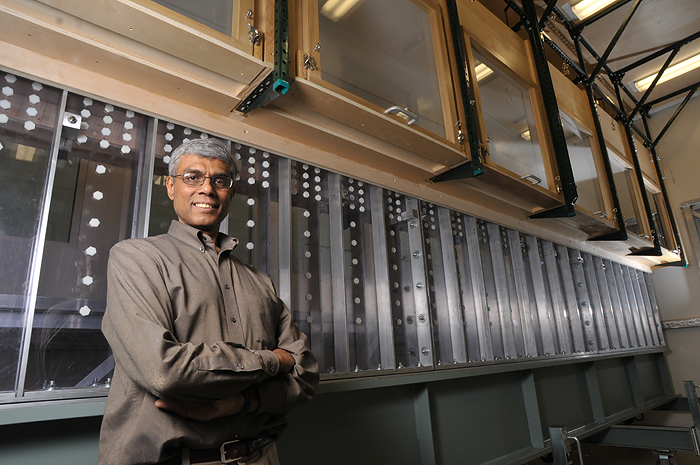 CONTACT:
Deirdre Keating, Communications Manager, College of Engineering & Computational Sciences | 303-384-2358 | dkeating@mines.edu
Ashley Spurgeon, Editorial Assistant, Mines magazine | 303-273-3959 | aspurgeon@mines.edu