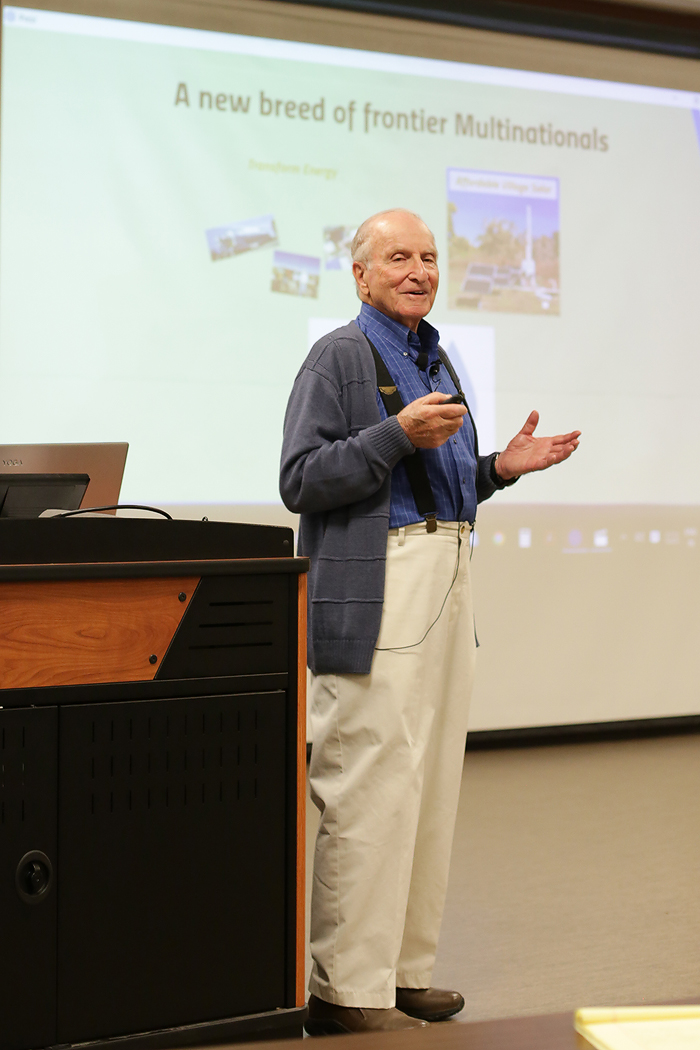 Sharing his broad world experience as an entrepreneur and activist, Paul Polak presented, "Prescriptions for Helping Poor People Help Themselves: What Engineers Need to Know," to a large crowd of Colorado School of Mines students and faculty on September 20.
"Instead of trying to bring the newest technology to the poorest regions," Polak said, "we need to listen and design based on the specific needs and environment of that community."
Polak's talk kicked off the Shultz Family Leadership in Humanitarian Engineering Speaker Series, a series aimed at changing the conversation about what engineering is for by showcasing leaders in humanitarian engineering and corporate social responsibility. Author of "Out of Poverty" and "The Business Solution to Poverty," Polak offers an unconventional approach to solving poverty not through government programs or philanthropic efforts, but by designing for the market of the poorest people on the planet.
"Most design efforts are aimed at the world's richest 10 percent, while nearly half of the population doesn't have regular access to food, shelter or clean water," Polak said, challenging Mines engineers to design affordable technologies that will increase the revenues of the poor.
Even prior to his talk, Polak has influenced design teaching at Mines. Several past humanitarian engineering projects have collaborated with International Development Enterprises (IDE), an innovative nonprofit design organization that Polak founded, located in Denver. Leslie Light, director of EPICS at Mines and a former project manager for IDE, has brought similar human-centered design principals to EPICS, Mines' first-year design course, such as the landmine detection project in fall 2015, and wheelchair redesigns in spring 2015.
SHULTZ HUMANITARIAN SCHOLARS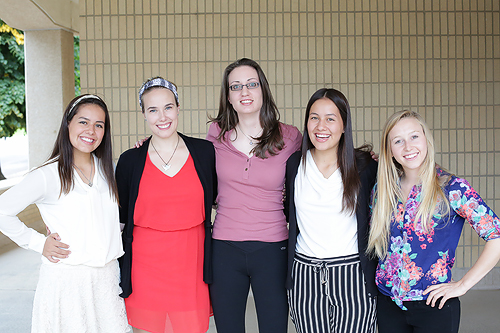 2016-17 Humanitarian Engineering  Shultz Student Scholars: Michelle Pedrazas, Rosalie O'Brien, Melissa Breathwaite, Micaela Pedrazas, and Stephanie Martella
In addition to the lecture series, the Shultz Family fund also sponsors undergraduate students each year as Shultz scholars. The current five scholars are Melissa Breathwaite, Stephanie Martella, Michelle Pedrazas, Micaela Pedrazas and Rosalie O'Brien. Juan Lucena, director of humanitarian engineering, introduced them as "outstanding students who have demonstrated their commitment to connecting their engineering majors to humanitarian engineering in creative ways, all while maintaining excellent academic standing."
For example, inspired by Polak, Stephanie Martella, a chemical and biochemical engineering senior, is collaborating with John Persichetti, teaching associate professor, on designing chemical processes to produce a nutritious beverage for the poorest markets in the world.
"I got involved with Humanitarian Engineering, because I'm passionate about building relationships through engineering and communication," Martella said. "I want to apply the engineering skills I've learned at Mines to solve problems for humankind."
According to Lucena, as part of their scholarship, the scholars are also committed to mentoring and learning from low-income, first-generation students at Red Rocks Community College who are considering transferring into engineering at Mines.
SHULTZ FACULTY FELLOWS

The new Humanitarian Engineering Shultz Faculty Fellows: Linda Battalora and Kathleen Smits
A third program funded by the Shultz Family Fund is the Humanitarian Engineering Faculty Fellows. Lucena announced this year's new faculty fellows as Civil and Environmental Engineering Assistant Professor Kathleen Smits, and Petroleum Engineering Teaching Professor Linda Battalora.
In spring 2017, Smits and Battalora will offer two courses of interest to students with minors in humanitarian engineering as well as students in their own departments. Smits is adding a humanitarian engineering focus to CEEN 475: Site Remediation Engineering, which will culminate with a feasibility study on an actual environmental site in a low-income country as the students' final project.
Battalora is developing a pilot course, PEGN 498A: Environmental Law and Sustainability, which will focus on societal impacts and ethics in the discussion of fundamental environmental regulations, policies and case studies.
Humanitarian engineering at Mines continues to grow, with increased emphasis on corporate social responsibility as well as designing for the world's greatest problems.
CONTACT:
Deirdre Keating, Communications Manager, College of Engineering & Computational Sciences | 303-384-2358 | dkeating@mines.edu
Ashley Spurgeon, Editorial Assistant, Mines magazine | 303-273-3959 | aspurgeon@mines.edu