George Sowers appointed to NASA advisory council
Space Resources professor will serve two-year term on Human Exploration and Operations Committee of NASA Advisory Council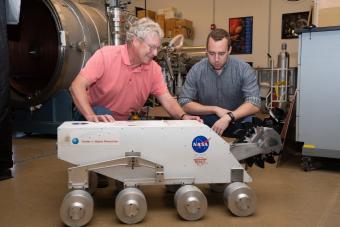 George Sowers, a professor in the Space Resources Program at Colorado School of Mines, has been appointed to serve on the Human Exploration and Operations (HEO) Committee of the NASA Advisory Council.
Sowers will serve a two-year term on the standing committee as a subject-matter expert. The scope of the HEO Committee includes all human exploration and operations-related programs, projects, activities and facilities at NASA – including the Artemis program to return humans to the Moon.
"This appointment is a great honor. I hope my advice will be useful to NASA as the nation returns to the Moon to stay and goes on to Mars. The utilization of Space Resources will play a key role in that endeavor," Sowers said. 
Sowers is a core member of the Space Resources faculty at Mines. Before joining the university in 2017, he served as vice president and chief scientist of United Launch Alliance, where his team developed an architecture for fully reusable in-space stages fueled by propellant mined, refined and distributed in space. He holds a PhD in physics from the University of Colorado and a bachelor's degree in physics from Georgia Tech and is a fellow of the American Institute of Aeronautics and Astronautics.
Learn more about the Mines' Space Resources Program – the first program of its kind on Earth – at space.mines.edu.