Faculty Awards honor 11 Mines professors for teaching, research, mentorship
5 of the 11 award winners hail from Department of Applied Mathematics and Statistics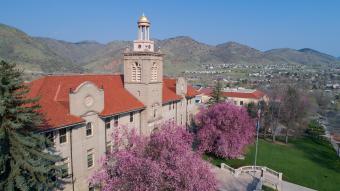 The Office of Academic Affairs at Colorado School of Mines is proud to announce the winners of the 2020-2021 Faculty Awards for teaching and research excellence.
The annual awards celebration was held April 28 in a hybrid in-person/virtual format due to social distancing requirements. Award recipients were invited to attend in person, while the rest of the campus community feted this year's winners virtually.
Faculty Excellence Award
The Faculty Excellence Award, which recognizes a tenured or tenure-track faculty member for significant and meritorious achievement in teaching and scholarship, went to Karin Leiderman, associate professor of applied mathematics and statistics.
"Highly regarded in the academic community, Dr. Leiderman has made a huge impact on the research culture in AMS – she is a rising star in mathematical biology and applied mathematics, and a core member of the very productive mathematical biology research group, which has served as a role model for other emergent AMS groups," Provost Rick Holz said. "Karin combines the development of novel mathematical tools necessary to understand biological mechanisms and then calibrates those tools in collaboration with experimentalists and applies them to biology, biochemistry, and biomedicine. She applies her most recent research advances in the classes she teaches. In addition, Karin's mentoring activities via her Director of Graduate Studies duties, Math Bio group, and SWiM Club advising are essential ingredients in shaping the family of faculty, students and staff that is AMS."
Mines Teaching Awards
The Mines Teaching Awards recognize superior teaching at the undergraduate level over the period of several years.
The Tenure/Tenure-Track Teaching Award was given to Bruce Trudgill, associate professor of geology and geological engineering.
"Professor Trudgill's contributions to teaching at Mines are extraordinary. In the 17 years Bruce has been at Mines, he has taught 80 courses addressing the learning needs of over 2,330 students. In addition, Bruce has contributed to teaching by being the long-standing chair of the GE Undergraduate Curriculum Committee," Holz said. "He is deserving of this recognition because of the quality, accessibility, and innovation of his instruction, the impact he has had on hundreds of Mines students, the dedication he brings to teaching by responding to students' individual learning needs, and the focus he has on field-based learning opportunities that prepare students for employment. Bruce has been selfless in his priorities, choosing to teach well above the normal load in order to make sure our undergraduates, in particular, received the essential training they need."
The Non-Tenure-Track Faculty Teaching Award was given to Rachel Morrish, teaching professor of chemical and biological engineering.
"Professor Morrish is a star faculty member of undergraduate teaching in the CBE Department. She has maintained incredibly high teaching evaluations consistently over 10 years of teaching some of the toughest courses in the CBE core curriculum. Rachel is consistently one of the most adored and respected faculty members in the department, as evidenced by the fact that she earned the student-selected Outstanding Faculty Member award for the last three years," Holz said. "This fall, Rachel also stepped into the role of Assistant Department Head, and is already doing a great job scheduling a balance of remote and in-person CBE courses and maintaining peace and order with the calm, rational and empathetic approach she brings to every task."
Alfred E. Jenni Faculty Fellowship
Paula Farca, teaching professor of humanities, arts and social science, has received the Alfred E. Jenni Faculty Fellowship, which is awarded to a faculty member for institution-wide contributions in teaching effectiveness and educational scholarship during the one-year award period.
"Dr. Farca's wide contributions are reflective of many of the priorities of MINES@150 and can be explained in two major areas: environmental justice, and diversity, inclusion, and access. Paula adds to the dialogue of these broad areas by using interdisciplinary educational research to enhance environmental humanities, cultural awareness, and gender issues, and her research is well reflected in the classroom," Holz said. "Paula's vision and her innovative teaching and scholarship will result in interaction with the campus at-large in curriculum and pedagogical development."
Excellence in Research Awards
The Excellence in Research Awards recognize Mines faculty members who are active in research for their outstanding accomplishments while at Mines.
The Senior Faculty Award, which honors faculty members with 10 or more years of self-directed research, was given to Robert Braun, Rowlinson professor of mechanical engineering. Braun's area of focus is energy system design, simulation and optimization, particularly systems involving solid oxide fuel cells and energy storage.
The Junior Faculty Award, for faculty members with less than 10 years of self-directed research, was awarded to Mohsen Asle Zaeem, associate professor of mechanical engineering. His research focuses on phase-field materials modeling.
W.M. Keck Mentorship Awards
The W.M. Keck Chair for Professional Development Education, Faculty Senate and Office of Academic Affairs seek to support and encourage the development and adoption of novel and effective mentorship strategies across campus. Three Mentorship Awards have been established to recognize extraordinary mentorship.
Undergraduate Students
Gerald Bourne, teaching professor of metallurgical and materials engineering, was recognized for his mentorship of undergraduate students – including advising the Colorado School of Mines Materials Advantage Chapter, coaching the Materials Bowl team, serving as faculty friend of the Nucleus Theme Learning Community and creating an event called Fix-It-Fridays, where he supervises and helps students repair their vehicles.
Graduate Students
Stephen Pankavich, associate professor of applied mathematics and statistics, was honored for his mentorship of graduate students and his instrumental role in creating a strong and inclusive community of AMS graduate students that study together, collaborate on research, participate in group meetings, organize their own graduate colloquium series, and spend time together outside of the classroom. He also has provided graduate students with summer internship opportunities and created workshops and programs to help them jumpstart their graduate education during the first year.
Faculty/Staff
Three professors in Applied Mathematics and Statistics shared the honor for mentorship of faculty and staff, for their creation of the AMS Professional Learning Community.
Teaching Professor Deb Carney
Teaching Associate Professor Michael Mikucki
Teaching Professor Mike Nicholas
The mentoring group provides support for AMS teachers through bi-monthly meetings in which they discuss readings, review literature, share current teaching projects, and practice teaching techniques. All three have also served as faculty mentors in the AMS Teaching Postdoctoral Fellow Program, with each of their postdocs moving on to academic positions.