Construction begins this week on Beck Venture Center 
State-of-the-art 31,000-square-foot building will be where Mines community turns ideas into startups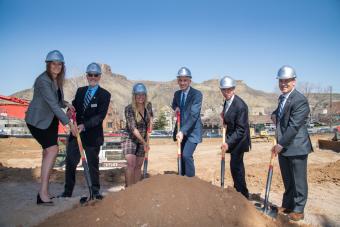 Construction on the final piece of the Mines Entrepreneurial & Innovation Ecosystem begins this week with a groundbreaking ceremony on Thursday, April 21 at 3 p.m. at the edge of the Mines campus at 17th Street and Washington Avenue. 
The Beck Venture Center, a 31,000-square-foot building, combines unique spaces, supportive programming and rich resources designed to help Mines students, faculty and alums successfully launch companies based on their breakthrough ideas, solutions and technologies. 
The building is projected to open in August 2023, following the creation-focused Labriola Innovation Hub in January 2023 and the E&I classroom building McNeil Hall, which opened in October 2021. The Beck Venture Center is made possible by a generous lead gift from Mike and Kelly Beck of Sarasota, Fla. The Becks are the parents of two Mines alums, and they support the campus vision of building an encompassing E&I culture by Mines' 150th anniversary in 2024.  
From a pitch deck and bustling coffee shop to coworking stations and collaboration spaces, this building will offer the community and support that students, faculty and alumni need to transform their ideas into market-ready products and services. The Venture Center's science and engineering focus will also expand opportunities for partnerships with established companies and organizations, who come to Mines for specific expertise they need to solve real problems. 
The new building is designed by OZ Architecture and will be LEED Gold certified. The contractor, GH Phipps, is mobilized to build the $19.2 million facility.