Colorado School of Mines and Carbon America awarded $32.6M from U.S. Department of Energy CarbonSAFE Initiative
The Bipartisan Infrastructure Law funding will support the development of a regional CO2 storage hub in concert with local stakeholders in Pueblo, Colorado area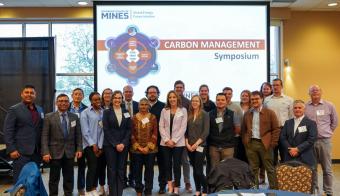 Colorado School of Mines, Carbon America and Los Alamos National Laboratory have been awarded $32.6 million in funding from the U.S. Department of Energy's Carbon Storage Assurance Facility Enterprise (CarbonSAFE) initiative to advance the development of a potential carbon storage hub for the Pueblo, Colorado area.
CarbonSAFE Eos was one of nine projects selected by DOE as part of a $242 million nationwide investment to accelerate the development of large-scale, commercial carbon storage projects with capacities to securely store 50 or more million metric tons of carbon dioxide deep underground.
The goal of CarbonSAFE Eos, named after the Greek goddess of the dawn and new beginnings, is to reduce industrial emissions from cement, hydrogen and power plant operations and at the same time, create a model for responsible, community-centric carbon capture and storage (CCS) from the ground up, inclusive of community feedback in support of sustainable economic and social development goals. Mines, Carbon America and Los Alamos officially announced the funding today during the Carbon Management Symposium hosted by the Mines Global Energy Future Initiative.
"Given the urgency and scale of our climate challenge, we have to accelerate the buildout of CO2 storage hubs region-by-region across the country," said Brad Crabtree, Assistant Secretary for Fossil Energy and Carbon Management at the U.S. Department of Energy. "The Colorado School of Mines project represents an important step toward that goal, and we look forward to working with them in this critical effort."
"This is a positive plan for our higher education system, for students in Golden and Pueblo, and for our air, climate, and planet. I was proud to sign new laws in partnership with the legislature to save people money on energy and reduce carbon emissions and pollution," said Colorado Governor Jared Polis.
The DOE funding will cover data collection, detailed site characterization, planning, permitting and significant community and stakeholder engagement for the project, as well as training for the next generation of CCS professionals. The project will be co-led by Manika Prasad, director of the Mines Carbon Capture, Utilization and Storage (CCUS) Innovation Center, and Carbon America Senior Geologist Chris Cassle.
"To meet our global climate goals, we need to do so much more than we're currently doing," Prasad said. "Large-scale carbon sequestration sites, like the one we hope to build with the community of Pueblo, are an important piece of the puzzle, capable of reducing greenhouse gas emissions by millions of metric tons, and enabling communities to transition toward zero-emissions energy generation."
"This grant represents a significant milestone in our commitment to mitigating climate change and developing sustainable energy solutions," said Brent Lewis, CEO of Carbon America. "By collaborating with the exceptional researchers at Colorado School of Mines and Los Alamos National Lab, we aim to unlock new possibilities for carbon capture and storage, helping to build a cleaner and more resilient future."
"Los Alamos National Laboratory is excited to be a partner on this CarbonSAFE project along with Colorado School of Mines and Carbon America," said Rajesh J. Pawar, senior scientist in the Earth & Environmental Sciences Division at Los Alamos. "This project strongly aligns with the Laboratory's mission related to Energy Security through deployment of clean energy technologies while facilitating energy transition to meet net zero emissions goals. The Los Alamos technical team will be contributing to various aspects of this project utilizing its decades-long experience and multi-disciplinary capabilities related to CO2 capture, transport and storage."
The Eos project aims to be an exemplar of community-centered carbon capture and storage, focused on how CCS in Pueblo can advance quality jobs, enable further business investment, and promote environmental justice and community partnership. The CarbonSAFE initiative falls under the DOE's Justice 40 goals of ensuring that 40 percent of the benefits of federal clean energy investments flow to disadvantaged communities and help enhance energy equity. Should the project proceed to operations, it will also help fund education in Colorado.
"Pueblo has remarkable potential to demonstrate a new energy future. We are excited to create a community decarbonization solution anchored in vibrant community engagement and input for long-term social and economic success," said Ashleigh Ross, Vice President of Strategic Engagements and Policy at Carbon America.
In the coming weeks, in addition to technical work, the project team will start early pre-planning outreach activities to support community engagement for the project. Community workshops will be held in the region to engage in two-way dialogue about the project and what community-centric CCS could look like in the area.
"We want to set a new high bar for industry-community compatibility and for this project to become the model for successful community relations for potential CCS projects on a national scale," said Jessica Smith, professor of engineering, design and society at Mines and key member of the project team. "We will be developing the engagement strategy with key stakeholders in Pueblo to make sure it's done in a way that's locally responsive."
About Colorado School of Mines
Colorado School of Mines is a public university focused on science and engineering, dedicated to educating and inspiring students, advancing knowledge, and innovating to address the great challenges society faces today—particularly those related to earth, energy and the environment.  Founded in 1874 with specialties in mining and metallurgy, Mines' scope and mission have expanded to meet the needs of industry and society, producing distinctive graduates and revolutionary innovations, and becoming a world leader in advancing sustainable use of the Earth's resources.  Learn more at mines.edu.
About Carbon America
Carbon America is a vertically integrated carbon capture and storage (CCS) developer, owner, and operator with a mission to quickly and safely capture and store as much carbon dioxide as possible. The company's team of world-class experts cover the entire CCS value chain, including capture processes; geology, geoscience, reservoir engineering; project development; commercial, finance, and tax equity structuring; regulatory and advocacy engagement; and acquisition of necessary land and sequestration site management for CO₂ storage. The company is currently developing CCS projects at three ethanol plants that combined would reduce CO2 emissions by 525,000 metric tons annually. For more information, visit carbonamerica.com.
About Los Alamos National Laboratory
Los Alamos National Laboratory is a senior laboratory in the U.S. Department of Energy's national laboratory complex and executes work in all of DOE's mission areas: national security, science, energy, and environmental management. The Laboratory has a long history of leveraging its core science and technology capabilities to support the nation's energy security mission—a symbiotic relationship that enables an agile response to some of the nation's toughest energy challenges. Today, the Laboratory leads and collaborates on R&D initiatives across DOE programs, including hydrogen and fuel cells, geothermal, fossil energy and carbon management, grid modernization, and biomanufacturing, to develop technology solutions that will help the nation transition to a clean energy system.
MEDIA CONTACTS
Emilie Rusch, Director of Communications, Colorado School of Mines, erusch@mines.edu, 720-432-5203
John Brown, External Relations Manager, Carbon America, media@carbonamerica.com, 720-850-5607