In the workplace of the future, AI could help personalize training for displaced workers
Mechanical Engineering Associate Professor Xiaoli Zhang is the lead researcher on a $1 million National Science Foundation project to create an AI-enabled tool for retraining workers in the metals industries.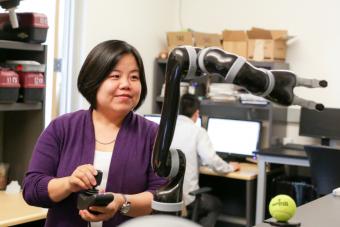 By Jenn Fields, Special to Mines Newsroom
Xiaoli Zhang's interest in artificial intelligence and human-robot cooperation stem from a desire to help people. And through developments in medical technology, additive manufacturing and other fields, her research has done just that.
But there's an aspect of AI that's less helpful to humans.
"The Fourth Industrial Revolution has come, and AI is assisting people, but AI and other advanced technologies may replace humans in some work," said Zhang, an associate professor of mechanical engineering who runs Colorado School of Mines' Intelligent Robotics and Systems Lab.
In reviewing the literature, Zhang found automation and other advanced technologies could displace 75,000 people from their jobs in the near future.
So, what does a researcher who studies how AI can help people do when faced with this downside? For Zhang, the answer was clear: apply AI to the problem of workers losing their jobs.
Zhang is the lead researcher on a $1 million National Science Foundation-funded project to create an AI-enabled tool to develop faster, more-individualized retraining for workers in the metals industries—mining, processing and manufacturing—who are at risk of losing their jobs to automation or other reasons.
The grant is from the NSF's new Convergence Accelerator Pilot program, which aims to fast-track "use-inspired, convergence research in areas of national importance." (A second project at Mines, led by Computer Science's Chuan Yue and concerning fairness in crowdsourcing for the growing market of "crowd workers," also won an accelerator grant.)
Efficiency is at the core of the AI tool Mines researchers are developing: Workers can get personalized retraining that doesn't waste time teaching them what they already know.
The team will gather a large dataset and build an algorithm to understand knowledge and training gaps in three fields—metals mining, processing and manufacturing. The AI will then quickly assess a worker's existing skills and identify gaps. From there, the tool can quickly create a personalized retraining plan.
The AI tool will develop training modules that see differences between, for example, an engineer with just a few years in the field and an experienced engineer in his or her 50s, Zhang said. It could then skip what either engineer already knows but spend more time in other areas to account for differences in the speed of learning new technology.
"This is a time when all mining companies are trying to implement autonomous systems with digital transformation," said Sebnem Duzgun, professor of mining engineering, who will help to identify retraining needs in the mining industry for the AI tool.
Mining is a cyclic industry, Duzgun said. "But mining companies are now trying to reduce the ups and downs by investing in innovation."
For the workforce, this means diversifying their skill sets. "Workers may need to change the way that they perform tasks or learn more changing mine systems via autonomy and digital transformation so they can plug themselves into that system easily," she said.
Zhang and Duzgun are joined on the project by Mines professors Sridhar Seetharaman, Craig Brice, Jurgen Brune and Aaron Stebner and Sam Spiegel, director of the Trefny Innovative Instruction Center. Mines' many industry partnerships will also play a crucial role in gathering a large enough dataset for the AI tool, Zhang said.
If the first phase is successful, the team could begin work on a second phase, a two-year, $5 million project. Ultimately, Zhang hopes what they build can become an open-source online tool.