Thirteen K-12 teachers from across Jefferson County recently completed six weeks of active learning at Colorado School of Mines, absorbing current research in the water-energy nexus in order to educate their students about these critical issues.
The Water-Energy Education for the Next Generation (WE2NG) program, sponsored by the National Science Foundation, took place at Mines for the second straight year. Participants in the Research Experience for Teachers program engage in research under the direction of Mines faculty and graduate student mentors.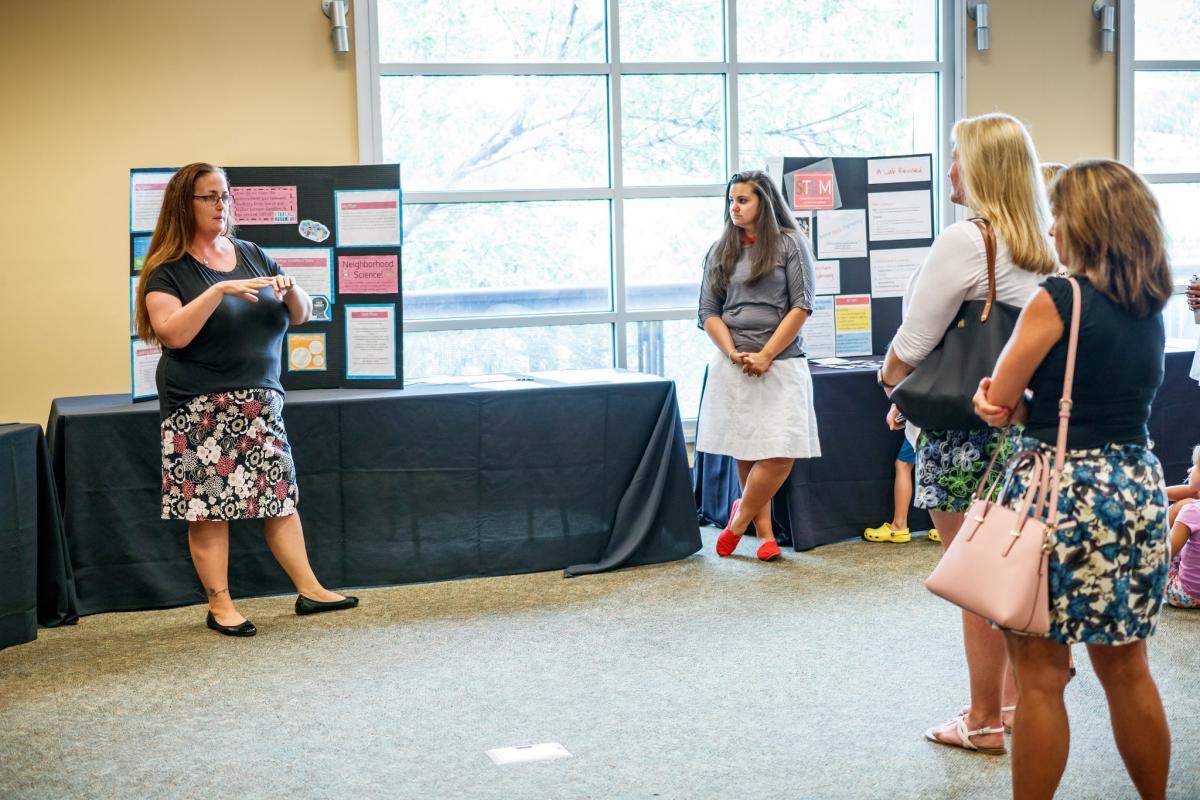 This year's teachers shared what they learned and how they would apply it in their classrooms in a final poster showcase on July 25. Teachers focused on topics such as water treatment and sustainable gardening, in addition to more practical skills such as leadership and collaboration geared toward innovations in STEM. The program ended with a three-day field trip to the upper Rio Grande River Basin in southern Colorado, where teachers heard from local stakeholders, farmers and scientists on mining, agriculture and water issues in the basin.
WE²NG Research Experience for Teachers (RET) is an outreach component of the ConocoPhillips Center for a Sustainable WE²ST, led by Civil and Environmental Engineering Professor Terri Hogue and Program Manager Amy Martin. The program is set to continue through fall 2018, when the $600,000 NSF grant expires.
"The WE2NG program was developed to strengthen the connection between the Mines community and local K-12 teachers and students," said Hogue. "We have had two incredibly successful summer programs, focusing on water-energy issues which are critical to our state's economy and the environment. We hope to continue the WE2NG vision beyond the end of the grant, through the NSF RET and other similar programs."
In addition to the six-week on-campus program, WE2NG fosters long-term partnerships with teacher participants by providing classroom support throughout the academic year—student researchers from the WE2ST center and the NSF-funded Engineering Research Center for Reinventing the Nation's Urban Water Infrastructure (ReNUWIt) play a major role in this collaboration.
Over the course of the three-year grant, WE2NG will provide summer training and year-round support for up to 30 K-12 teachers across Jefferson Country to teach water-energy research in their classrooms.
See more photos from the event on Flickr.
Contact:
Agata Bogucka, Communications Manager, College of Earth Resource Sciences & Engineering | 303-384-2657 | 
abogucka@mines.edu
Mark Ramirez, Managing Editor, Communications and Marketing | 303-273-3088 | 
ramirez@mines.edu